Talk Story with Sandy & Dusty Klein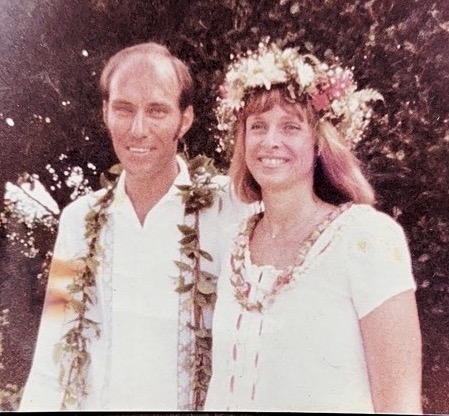 HTMC Talk Story #15
January 28, 2023
---
The ESSENTIAL Questions
Joined HTMC:
Sandy – I forget when I actually joined, but started hiking with the club in the mid-1970'a
Dusty – I joined in 1981
Current favorite hike:
Dusty – Manana
Sandy – Poamoho
---
WHEN did you first start hiking ?
SANDY: I started hiking as a child on Maui, and I started hiking again when I moved back to Hawaii with my two children. Does anyone remember 2 little blond kids? Yipes, they are in their 60's now! I think Charlotte Yamane and Joyce Oka started hiking about the same time I did.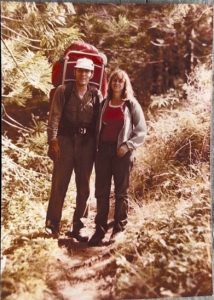 DUSTY: I first started hiking when I was stationed in Germany. I did quite a lot of hiking in the Bavarian, Austrian, Swiss and Italian Alps.
---
WHEN did you join HTMC?
DUSTY: I joined the club in 1981. I was stationed here from 1976-1978 and did a lot of hiking on my own but did not know about the club at that time.
SANDY: I started hiking with HTMC in the mid 1960's but I don't remember when I actually joined the club. I remember seeing scruffy looking people on Sunday mornings and wondering who they were.
---
What is your FAVORITE hike on Oahu?
SANDY: Poamoho, because you are in a native forest from almost the beginning of the hike.
DUSTY: Manana great views.
---
Can you think of one MEMORABLE HTMC hike experience that you would like to share
SANDY: Bonnie Kolsom fell over the side of Ulupaina and was airlifted out dangling below a helicopter. I would rather hike out on a broken leg… which incidentally, Dusty has done twice.*
---
Where have you hiked OUTSIDE of Hawaii?
DUSTY: Climbing Kilimanjaro was my most memorable hike outside of Hawaii. It took three and a half days to reach the summit and a day and a half to come down. It was the hardest thing I've ever done. A climber from Japan, in another group, died of altitude sickness while I was there.
My favorite hike in the Hawaiian Islands is the Kalalau Trail, which I have done 47 times.
SANDY: Dusty and I have hiked together in Europe, New Zealand, and Costa Rica. I particularly liked Switzerland because of the gorgeous scenery. The cow bells and the way an Inn would pop of nowhere at lunch time. Also there were cable cars, chair lifts and cogwheel trains to take you up to the trail heads. (Switzerland doesn't allow cars in the mountain areas.)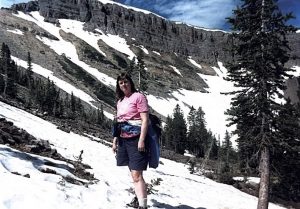 ---
What is your extent of INVOLVEMENT with HTMC over the years?
DUSTY: I took care of correspondence and membership for a few years. I was a hike coordinator and still trail clear or assist on hikes.
SANDY: I was treasurer/accountant for three terms, a hike coordinator, and trail clearer.
---
Do you have any concerns about the FUTURE of Hiking in Hawaii? Any advice as to how to balance the increased popularity of hiking with problems of overuse/erosion, access issues and rescues?
SANDY:  On one of the hikes I led, a woman that I didn't know shared her take on doing a hard hike: "If I get too tired I can call for a helicopter." I really think there should be a charge for rescues. It might make people think twice about going on a hike that they are not prepared for.
---
What do you think is the KEY to staying fit and active as you age?
SANDY: Keep doing what you love and make adjustments as health issues become a problem – like using poles, cleats and doing shorter hikes.
---
Is there ANYTHING else that you would like to SHARE with HTMC members?
SANDY: We first met on one of Dick Booth's scavenger hikes, and the first date Dusty asked me out on, 42 years ago, was a backpacking trip to Kalalau.
---
About

SANDY and DUSTY KLEIN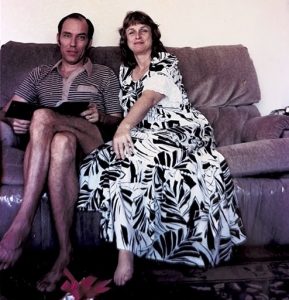 Dusty was born in Wisconsin, and Sandy was born on Maui. Their first date was a 5 day hike into Kalalau Valley on Kauai, and they got married in 1983. Beside hiking, they both love to travel, and have done some memorable trips including in Europe (10 countries), Africa (6 countries) and India (Sandy's favorite).
---
* The Talk Story editors couldn't let that teaser go without asking for more detail! Sandy satisfied our curiosity with the following detail about Dusty's broken legs:
1) On a hike into Kalalau. He stepped on something round, maybe a Kukui nut, about a mile from the campground. He walked around on it for 5 days, then caught the zodiac out. When he got out, his leg was all colors of the rainbow.
2) On a workday in the Hono'uli'uli Forest Reserve, he stepped on a slippery rock and went down about two-thirds of a mile from the cars.
(If you guys have seen how he hikes, you shouldn't be surprised. Time, and Dusty, wait for no man (or woman).