Remembering Nathan Yuen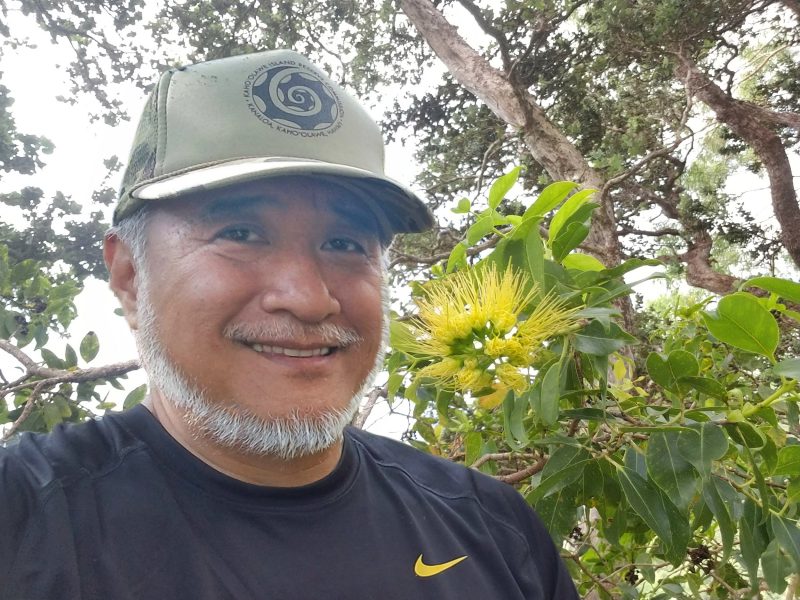 Nate's Celebration of Life was on Saturday September 17th from 4-8pm at Sea Life Park. At the memorial the below words were read (after Nate commented on how much he liked them when June Miyasato spoke them at Mabel Kekina's memorial. They were brought from a memorial in Napal leading to Mt. Everest by Grant Oka.
Do not cry for me as I no longer walk the earth
I am here in the places that I love
As the warm wind blows, it is I caressing you
As the rain falls on your face, it is I kissing you
As you gaze at the stars and moon and sun, it is I smiling
I Love You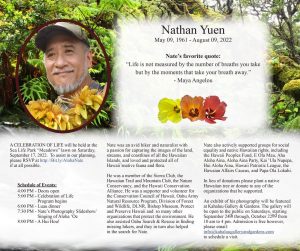 The HTMC community mourns the loss of Nate Yuen, a lifetime member and volunteer. Nate joined HTMC in 1998 and contributed to the club and Hawaii's hiking community for over two decades as a trail clearer, hike coordinator, photographer and activist. Nate was known as the "Gentle Warrior" Naturalist and hiked to remote parts of the Hawaiian Islands to photograph rare native plants and animals. He was a celebrated photographer and shared his work and experiences on his blog site HawaiianForest, via social media, and in several HTMC events including a virtual presentation, Hiking in the Coronavirus Era. 
Nate's family announced he went missing on Monday, August 8, 2022 after failing to return from a hike. A large community volunteer search effort, including many HTMC members, discovered his body on August 9th below a cliff off the Waimano Ridge Trail. Nate's passion for hiking and the 'aina will live on through his many photographs and videos and the many people he inspired.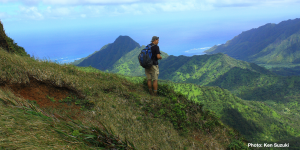 HTMC member Pete Clines shared the following story about hiking with Nate
I was fortunate to become friends with Nate, and he was one of the "Bushwhackers" – the name of our regular group back then. He was a fit and capable hiker, he knew everything about the plants we encountered, and he was a genuinely kind person. Nate was an integral part of several backpacking trips, and even more numerous day hikes. He was always able to contribute to a conversation or make us laugh. Even when we pushed beyond his risk tolerance, Nate found a way to stay involved in the adventure. Sometimes he would document the hike from a distance in a "photojournalist" role… other times he provided logistical support by securing campsites or driving the rest of the gang back from remote trailheads. And he motivated me to take on challenges that I otherwise might not have. I am thankful for that. 
Regrettably, I lost touch with Nate several years ago. But I have been thinking about him a lot since his passing, and many pleasant memories of him are surfacing. I think one of my favorite Nate Stories centers around Olympus Windward. Nate was always hyping that route as an old HTMC rite of passage, so OF COURSE we all had to do it. After navigating without the benefit of GPS, battling overgrown ridges, cutting through some of the biggest cat's claw ever, and Duc temporarily hanging upside-down from a root… Nate decided he had enough. The grade had gone vertical, and he was going to head back down. But we were within sight of the summit and wanted to finish as a group. So the rest of us convinced Nate to keep going, and to let us tie a rope around him to haul him up the final stretch.  In one of the most bizarre trail moments I can recall, August reaches into the depths of his oversized pack and pulls out… a book on tying knots!  (The other items tucked away in his famously huge pack still remain a mystery.)  Fast-forward, and a well-secured Nate is shouting "Pull…Pull!" while two of us are obliging… and one of us was snapping photos of the stressful hilarity. Upon reaching the top, Nate's excitement was unparalleled, and he was actually hugging the ground for a moment. According to Nate's interpretation of the archives, any of us could now run for President of HTMC. It was a good day. 
Glad to have known you, Nate.
– Pete Clines

HTMC member Jill Moratto's shared this memory of Nate
I have so many great memories of laughing, hiking, and camping with sweet Nate, but there's one particular story I'd like to share. It's my favorite memory of him, and it shows what a wonderful caring compassionate person he really was. Everyone that knows me is aware of my frequent flier status at the hospital. (Lol) I was in yet again (can't even remember what for, as after 17 surgeries, everything blends.) But it's not important why I was there. What is important is that I had already been there for over a month, and was getting quite depressed and overwhelmed. At some point one begins to wonder if there's going to be a discharge date, and then, will I get back to "normal?" What ever that really means. I was in pain and mentally down in the dumps, when all of a sudden in walks Nate. Sweet dear Nate with that big grin on his face and arms open as if to give me a hug. Immediately I felt better, but then he pulled from his pocket a stack of absolutely beautiful cards. They were photo cards that he had made. Of course he was the photographer on all of them. Stunning Ohia, mountain scenes, waterfalls, native foliage. One was more beautiful than the next. Literally minutes before he arrived I was questioning if I'd ever be able to go hiking again, and simply would I just get the hell Out of Queens? I'd been dreaming of feeling wind on my face and getting eaten alive by mosquitoes. Heaven. It seemed impossible until Nate showed up and gave me those cards. As I looked at them, I knew I would one day be back to my " normal." It was definitely the sign that I needed. My mood immediately soared. I hope this story doesn't sound melodramatic. It's the honest way that I felt. I don't imagine a lot of you will understand this, and you may even say, ok so someone came to visit you in the hospital and gave you some cards, big deal. But it was sooooooo much more than that, and always will be. I never forgot that moment because it may have saved my life. The way I was feeling, before and after was night and day. And I was always grateful to him for that one simple kind gesture that had such a huge impact in my life. I told him about it several times over the years how much it really meant to me, and still does. And I still have those beautiful cards, and when ever I get in that same predicament of ill health, I pull them out and enjoy them once again, and I know I'm going to be ok. Oh sweet dear Nate, God bless you fine sir. Til we meet again.
Farmer Jill
Past HTMC president, Jay Feldman wrote the letter below about Nate
As the president of HTMC I sent the following comments on April 12, 2013 to Senator Malama Solomon Chair, Committee on Water and Land Hawaii State Capitol, and Senator Maile S.L. Shimabukuro Vice Chair, Committee on Water and Land Hawaii State Capitol, in submission for the consideration and confirmation to the Natural Area Reserves System Commission, of Gubernatorial Nominee, NATHAN YUEN, for a term to expire 6-30-2017.
Dear Senators Solomon and Shimabukuro:   I am writing to you in very strong support of the confirmation of Nathan Yuen to the Natural Area Reserves System Commission.  I have known Nathan for over fifteen years through the Hawaiian Trail and Mountain Club and have hiked many, many miles with him. Without question, when it comes to native foliage and fauna, Nathan is one of the most engaging and informative hikers I know. However, this was not the case when I first met him, but over the years he has studied, taken classes, and proved to be an autodidact of the highest caliber and has evolved to one of our most knowledgeable members when it comes to trailside plants, snails, birds, and insects,  – native and invasive. In the process he has developed his skills in photography, both for visual documentation of his research as well as to capture the beauty of nature that surrounds his efforts. One can easily judge the quality of his work by viewing his educational and thought provoking blog entries at his web site (HawaiianForest.com).  Additionally, associated with his increasing knowledge of nature and the environment, he is an excellent hiker and explorer who knows the trails and history of the islands as well or better than most. He has served the club as a Hike Coordinator, a member of the Trail Maintenance Crew, with other members assisted Fire and Rescue in the search for missing hikers, designed the club's very popular "2010 HTMC Centennial Calendar", curated a photographic and hiking artifact exhibit at University of Hawaii's Hamilton Library ("100 Years of Hiking with HTMC"), and served as the club's archivist saving treasured and historic hiking photos, maps, and news articles collected from HTMC, State of Hawaii, UH, Bishop Museum, and DOFAW archives.  In summary, Nathan is one of the brightest and most capable individuals I've had the pleasure to know and hike with. His passion for native plants and animals, his service as hike coordinator, trail clearer, search and rescue volunteer, and his commitment to preserving the natural environment for future generations will make an excellent addition to the NARS Commission. I'm confident his service to the state will be extraordinary.
Jay Feldman, President Hawaiian Trail and Mountain Club
This below message & the image above is from HTMC Member Colleen Sores:
We have lost a dear friend! I met Nate when he joined my Sierra Club hike on Lekeke years ago, and it was great to have him with us, atho a bit intimidating too. He was a superbly talented photographer. He was also soft-spoken and exuded a quiet warmth and strength. Last year, I lost my sweet son, Jesse, and I was lost myself. Nate and another good friend, Angela, offered to be with me on a hike. We met, and Nate gave me the warmest bear hug I've had in a long time. And then I got another hug from Angela. Simply that! So many of us don't know what to do for those of us left behind. Just be present. And offer a hike.
Photos were collected from HTMC members and the hiking community to create a memorial video. CLICK HERE to view "A tribute to Nathan Yuen" video on YouTube.
HTMC member David Johnson recorded farewell chants from Nate's family and friends on August 10, 2022.
You can find Nate's work and testimonials in dozens of places online: 
Blog: hawaiianforest.com
Facebook: https://www.facebook.com/nate.yuen1
Instagram: @808NateYuen
Vimeo: Nate Yuen – over 100 videos ( HTMC features 2011 – 2015)
YouTube: 
Bubbling Spring at Makiki Falls – April 1st, 2022 (1 minute) 
Makiki Falls – April 1, 2022 (1 minute)
Ohia Tree Complex 1 – September 25, 2020
Ohia Tree Complex 2 – September 25, 2020
Other articles featuring Nate: