The Clubhouse Chronicles: I Live in the Hiking Club Clubhouse. I Should Do More Hikes.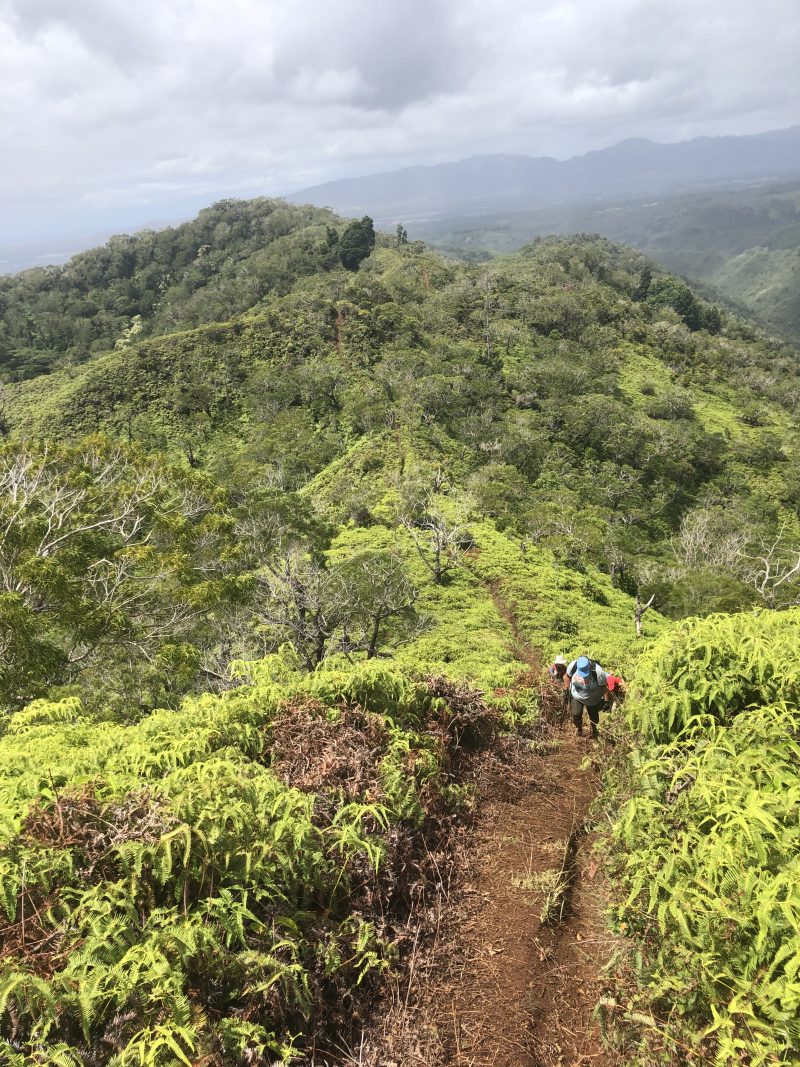 Bio: Malia, Josh, and Mehana Collins are the current live-in residents at the HTMC clubhouse. Malia was born and raised in Maunawili and has always talked about moving back home. She started writing a series on moving to and living at the clubhouse. This is the fourth installment. 
I Live in the Hiking Club Clubhouse. I Should Do More Hikes.
I tell my English 101 students to set up their essays using MLA format—proper heading, compelling title, last name and page number, 12-point font, etc.—because they're telling me something about their work before I even read it. I say, "If you turn in an essay that's a crammed together bunch of words with no paragraphs, even if the words are beautiful and thoughtful, I'm going to make a judgement before I get into your paper and unearth the wonderful (I hope!) that's buried underneath this jumble."
This is what I thought at the pre-hike meeting before we tackled the 'Iliahi Ridge trail: I'm like that messy, jumbled up essay. I'm a hiker. On first glance, I don't look like a typical hiker, or more specifically, I don't look like what I think a typical hiker looks like: I'm fat. I'm slow. I don't have the right clothes. But, unearth a tiny bit and I have good and sturdy shoes, lots of water, and when I'm in the mountains and on the trails, I feel connected to this land and its stories, to my ancestors who walked these trails and my descendants I hope will continue that journey. I've hiked the Kalalau Trail, the Muliwai Trail, and into the French Alps and the Sawtooth Mountains. I can do hard things. But 'Iliahi Ridge? It almost broke me. Seven hours on the trail (I'm slow, always the last one) in intermittent rain showers, I thought: I won't be able to finish. During lunch the rain picked up, and by the time we headed down the ridge, the descents were steep and ice-slick. I was unsteady. I fell more times than there were stream crossings (I counted 24). I heard the whispers behind me—I'd be falling too if I didn't have spikes, we need to buy her some spikes. I've always used hiking sticks. But they weren't enough that day. "Please," I said to the women behind me, "buy me some spikes." I moved to the side, waited on the edge of the helipad near the summit for the line of hikers to pass, and thought, when I make it out safely, I'm retiring from hiking. 
I spent seven hours in my head writing the essay announcing my retirement from hiking.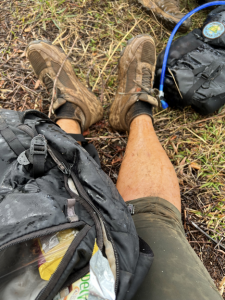 We trudged up the final climb and connected to the Manana Trail (there was a paved trail? I told Josh). Where the trails converged, another couple was finishing their hike, and the woman looked at my mud-covered shirt and pants, mud-caked hair and cheeks and said, "I've been where you are before."
I shook my head. "This was my last hike," I said. "I'm retiring."
She said, "I want to retire too, but I've only done five hikes. Can I still retire after only five hikes? How many hikes have you done?"
I counted back. "Maybe a thousand?" I said. 
She stopped, impressed. "I'm happy to carry on the torch." 
I hobbled to the car. On the ride home, I scrolled through the pictures I took—variations on the same shot—Josh hiking ahead of me, his back in the frame, his gait steady, knowing he could hike for as long as it took to get to the end and be fine. It's hard for Josh to hike at my pace. Sometimes when he's trying to stay close, he looks like he's moving in slow motion. 
I thought, I spent all my time looking at the ground on this one. 
I'm retiring from hiking, I texted the kids.
I showered. I took three ibuprofen. I ate a grilled cheese and was in bed and asleep by 7:30.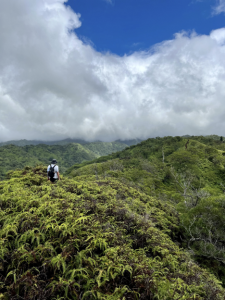 In the clubhouse, we're surrounded by pictures of people hiking trails I get scared even looking at. The people in the pictures are so small next to the hugeness of the cliffs they're standing next to, or the ocean they're looking out on. One of my favorite things about hiking is we get to be in places so many people don't get to see. A friend of mine wears a shirt that reads, Movement is a privilege, and I feel that when I'm on the trails. But I also feel like I constantly need to be apologizing—saying sorry to the sweep for being so slow, feeling shame as I hoist myself up or down the narrowest and slipperiest parts of the trail because I don't want to fall, again. Even using the verb hoist to describe the way I move. I hiked the 'Iliahi Ridge trail in tears. It wasn't the first time I've hiked in tears. 
This is the point in the essay where I would tell my students, You need to write towards hope.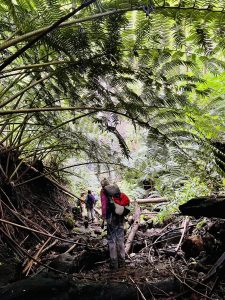 Two weeks before the 'Iliahi Ridge trail, before the endless falls and mud-soaked everything, I did my first trail clearing, with a small group of women, maybe seven of us, on a trail in the back of Manoa Valley. I had a pair of clippers and used those to trim back invasives and cut through the vines and branches that blocked the trail. A couple of hours in, we stopped to build a small, rock dam to keep the stream from spilling out over the trail. We took pictures of moss and tiny, silver ferns growing along the tree stumps. At lunch, we put our hands in the waterfall, shared li hing mui gummy bears, laughed and talked story. On the way back down, I imagined the throngs of people on the trail one over from where we were, and felt like I was given the gift of this moment. Here I was, a hiker with these hikers, tending to the trail, and how the trail revealed itself to us with each branch cleared, each mule leaf fern frond cut and flipped over so the spores didn't get in the water. I've gone back to that hike two more times since then.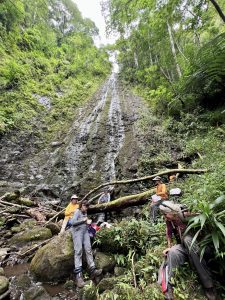 Perched on the side table downstairs in the clubhouse is a framed photograph of a woman sitting in a waterfall and she is smiling. When I turn the lamp on in the morning I see her, and the way she looks is the way I feel when I can get out of my head and into the hike, when the conditions are good, and I feel like I'm closer to understanding something I can feel, but can't quite touch. It's this feeling that keeps me lacing up my shoes. I don't think I can retire from hiking yet. But it will be a very long time before I try 'Iliahi Ridge again.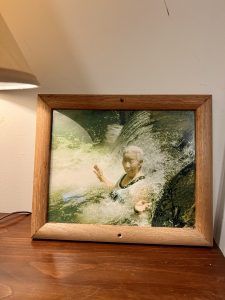 Next month: When friends come to visit….a house full of guests and one shower.