Talk Story with Grant and Joyce Oka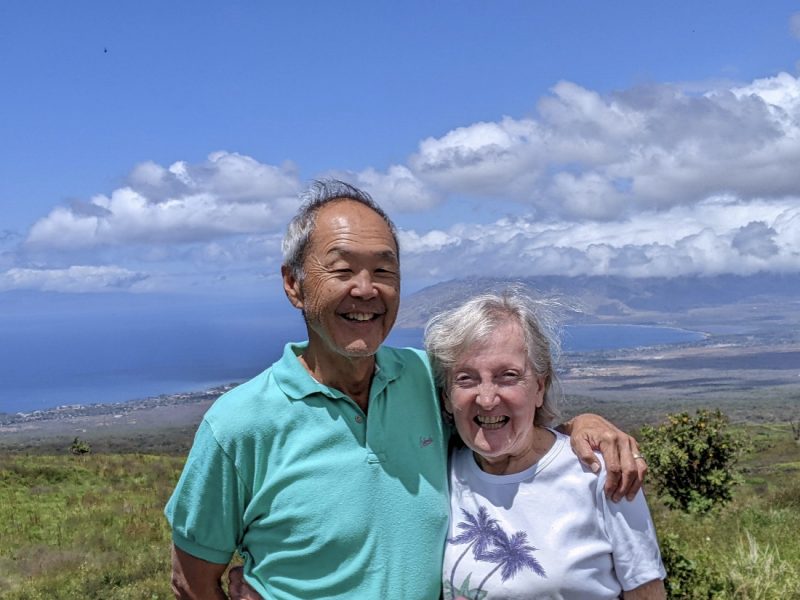 HTMC Talk Story #14
December 31, 2022
In the last HTMC Talk Story article of 2022, Joyce and Grant Oka supply wonderful, entertaining responses to our questions and share their experiences hiking in Hawaii and around the world!
---
WHEN did you join HTMC?
JOYCE:  I joined the club in 1969. I had just arrived in Honolulu to go to graduate school at UH to study for my Masters in Social Work. My first roommate was already in the club. She was Rhonda Refsnider, now in Oregon. My first Sunday on island she took me on an HTMC hike.  I was excited to continue my interest in hiking in Hawaii. It was a great intro to the Hawaiian lifestyle. I joined as soon as I did three hikes, and later became a life member.
GRANT: In the 1980's I worked with HTMC members Bob Silva and Dave Mato at the Kaena Point Satellite Tracking Station. They were senior so had weekends off while I had off midweek. For 9 years, every Monday I would always ask and they would tell me about the Sunday hike, the people, the fun, and describe the natural beauty. The very first Sunday after I was laid off from Kaena Point in April 1990, I went on my first HTMC hike (Pauoa Woods). I hiked with HTMC every Sunday as a guest ($1) and joined later that year. As a sidenote, Bob and Dave spent two years of their lives in the 1990's restoring the Waimanu Trail. Waimanu was so beautifully manicured all the way to the summit for a few years.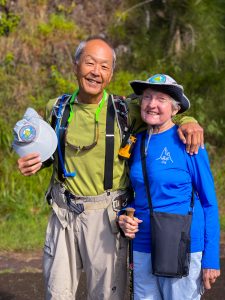 ---
When did you FIRST start hiking and WHY do you continue?
GRANT: In the mid 1970's I was only aware of a few trails (Manana, Waahila, Aiea Loop, Maunawili, Halawa Valley). I would hike solo as a means to clarify my perspective on life as I was adjusting to adulthood and life back in Hawaii. I enjoyed the physical exertion and always felt spiritually renewed when I returned home.  My first backpack was Kalalau Valley in approximately 1976 and with very little knowledge, but God protects naked fools so I had a great experience. Then Haleakala Crater about 1978, again with so many novice mistakes but a great time. I was not aware of HTMC until 1980. Hiking and backpacking were not very popular endeavors in the 1970s and equipment was of poor quality or not available in Hawaii. I rarely met anyone on now popular trails.
I always enjoy hiking with HTMC friends as we often share our lives and joke lightheartedly about everything but at its core, hiking is a solitary experience for me. As I hike, besides the occasional stray weird thoughts, there is not much else going on in my head but my perception of the natural world around me, my mental focus on the trail hazards and not cutting myself with my machete, and my awareness of my body's waning strengths and increasing weaknesses. As I am hiking, my brain is 100% occupied in keeping me upright and moving and my life's issues move to the background. I find that not thinking on my issues for a while allows for clearer analysis in my head later. I always feel renewed after a hike and appreciative of HTMC friends that shared the day with me.
JOYCE:  My first hiking experience was at a church "camp" at Brighton Home in Salt Lake City, Utah. As a teenager I hiked in the mountains around Salt Lake City. I went on several river running trips in Utah, Idaho and California and did day hikes on those. I like the challenges of the trail and reaching the "summit". I love being out in nature.
When I was 17, I worked on a dude ranch in Montana. Their activities included hiking in which I participated. Later, I worked for a lodge in Teton National Park, fell in love with those mountains, and hiked when not working. It is the one sport that I was able to do. When I lived in California, I joined the Sierra Club and went on numerous hikes throughout the Bay Area. I also visited the Sierra Club Ski Lodge in the Sierras and a lodge they have in Canada. The latter visit was with a group from HTMC in 1976.
---
What is your favorite hike on Oahu currently?
JOYCE: I really like Likeke Trail starting at Ho'omaluhia. It used to start at the small parking lot just outside the Pali tunnel. It has a lot of variety with the trail going in and out of the foothills of the Ko'olaus. The views are great of the Windward side, and the waterfall is wonderful as well as the return route through Ho'omaluhia.
I also am a member of Mauna Ala Hiking club on Maui. My favorite hiking area there is Haleakala Crater. While living on Maui, I was active in the Sierra Club, scheduling and leading hikes.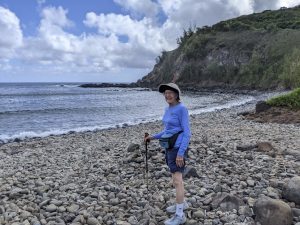 GRANT: Aiea Ridge Trail is a perfect trail at my age. I can hike as far as I feel up to and this trail is always beautiful with native plants and native birds. This trail is especially nice after HTMC has cleared it. I have a history with Aiea Ridge as on one trail clearing, in a heavy rain, I fell off the trail down 50 ft or so.  I was very lucky to be rescued by Arnold Fujioka, Bill Gorst, Naomi Nasu, and Tom Yoza and not be seriously injured so I consider Aiea Ridge to be my companion for life.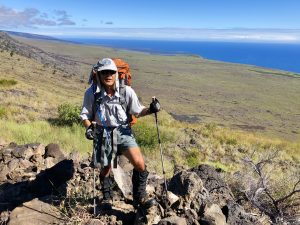 ---
Can you think of one MEMORABLE HTMC hike experience that you would like to share?
GRANT: As part of my mid-life angst, I contemplated moving my family to LA to further my career in electrical engineering. I had spoken with engineers that made the move and stayed in LA, engineers that made the move and returned to Hawaii to raise their family, and engineers that decided not to leave Hawaii. I was with the trail clearing crew on the Bowman Commando trail and found a nice spot under a Koa tree to lay down on the damp earth and think about my life. No significant revelation came to me but just a sense of thankfulness. I believe the physical exertion, the vitalizing forest air with the scent of decomposing vegetation, and my body's contact with the earth all came together to support me in my choice. Life is good!
In the 90's I led the Koloa Gulch hike. Janice Nako and Nigel Robertson and I were the first of the group to reach the first small falls/pool. We swam across and climbed the side of the falls and scrambled a short way to the large falls and plunge pool. We were surprise to see two dead pigs and an aborted litter off to the side of the plunge pool. As we went for a closer look, one of the pigs suddenly got up and snarled at us. We all three ran into the plunge pool hoping that pigs don't like water. When we turned around the pig was gone and only the one female and the aborted litter remained. We surmised the pigs had actually fallen from the cliff above.  The Koloa hike was informally known as the "hike of the living dead pigs" on our printed hiking schedule for a couple of years after (a movie of the time was "Night of the Living Dead").
JOYCE: In 1994 Stuart Ball led a Ko'olau Summit backpack.  I signed up for it and accepted a ride to the Laie trailhead from Grant Oka. We agreed to share a tent rather than each take one. The rest is history. Guess we are part of the Club's reputation of being the Hawaiian Trail & Matrimony Club.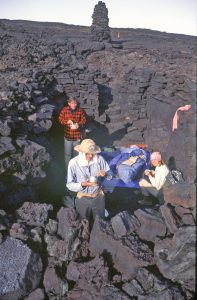 Jaggar's Cave on Mauna Loa, 1991.
---
Where have you hiked OUTSIDE of hawaii?
JOYCE: I have backpacked with groups of club members or just Grant in Montana, Wyoming, Alaska and Utah as well as Hawaii. Outstanding foreign trips were in Canada, Switzerland (day hikes), Tasmania, and New Zealand. In Japan, I hiked Mt Fuji.
GRANT: Throughout the last 30 years, Joyce and I and HTMC friends have backpacked Glacier NP, Zion NP, Bryce Canyon NP, Yosemite NP, Yellowstone NP, Denali NP, Grand Teton NP, Bob Marshall Wilderness, Wind River Range, Tasmania, Nepal, and South Island of New Zealand.  Some of the trails include: Chilkoot Trail, John Muir Trail, lower Vermont Long Trail, Wonderland Trail (2x), N-S Wind River Range, Vancouver Island West Coast Trail, Teton Crest Trail, Tasmania Overland Trail, N-S traverse Glacier NP, N-S in "The Bob" to China Walls, Yellowstone Throughfare Trail, Kepler Track, Milford Track, Routeburn Track, Nepal Everest Base Camp and Kala Patar summit.
Day hikes were always a part of our international travel plans. Some international visits include: Vietnam, Cambodia, Laos, Myanmar, Bhutan, Nepal, Japan, S. Korea, Thailand, Switzerland, Norway, Denmark, Sweden, Austria, Germany, Hungary, and Romania.
Boat journeys Joyce and I have taken that were memorable were the Halong Bay north Vietnam, Mekong River – Luang Prabang Laos to Chiang Rai northern Thailand, Mekong River – My Tho Vietnam Mekong Delta to Phnom Penh Cambodia, Irawaddy River – Bagan Myanmar to Mandalay Myanmar, and Danube River – Bucharest Romania to Budapest Hungary. Joyce and I with HTMC friends Carole Moon, June Miyasato, Art Isbell, and Inger Lidman experienced the coastal fjords from Bergen Norway to Tromso Norway on a passenger/cargo ship. We then went on an epic road trip (thanks to Art for driving) to A (pronounced oou) at the tip of the Lofoten Archipelago. Art and I did a great day hike there.
Slowing down a lot the last decade but I truly cherish those memories. While there are more destinations on my bucket list, my favorite international destination has to be New Zealand South Island as the culture there is all about conservation and support for outdoor people.
I recall backpacking on the Wonderland Trail in Rainier NP with Ralph Valentino and Reuben Mateo. As part of planning, I went on an internet board specific to this hike. I was contacted by a person (female) that requested to join our group. Of course, I agreed so gave her our schedule but never bothered to let Ralph and Reuben know of this since it was all tentative. For those who have never hiked a long trail, the trail grapevine is surprisingly efficient. First day on the trail, Ralph, Rueben and I are steeply climbing to our first campsite with heavy packs when a beautiful blonde female backpacker comes down the trail towards us, stops, looks at me, and asks, "Are you Grant from Hawaii?"  She had a message for me from that the person we were to meet who wanted to let me know she had started a day early.  Of course, Ralph and Reuben were totally astounded that I was so "well known"!  This became a running joke for the next 13 days on the trail and a few months after we returned to Hawaii.
A very memorable adventure overseas was the Nepal trek with Ralph Valentino, Laura Owens, Carole Moon, June Miyasato, Debbie Uchida, John Hoover, Marcia Stone. So many stories and images come to mind. The trek to Everest Base Camp starts and ends at Lukla which is only accessible by walking (two weeks) or by short takeoff/landing Russian built planes. Landing at and taking off from Lukla airstrip was a very scary experience as the strip is on the side of a mountain cliff and off to the side are several wrecked planes. After about two weeks, Debbie and Carole left the trek due to altitude sickness and returned to Kathmandu. After three weeks of trekking, the six of us returned to Lukla, got our flight boarding passes, said goodbye to our porters, and looked forward to a hot shower and good food in Kathmandu the next day.  We had five days before our flight to Hawaii so we planned a short outing to a wildlife preserve.
The next morning, we awoke to whiteout conditions. Lukla airstrip terminal building had no electricity, no signs, and no personnel except for two security people with AK47's (Maoist rebels were active) but that day the building was empty since it was obvious that no planes would be landing. We went back to our guesthouse for another night in Lukla and another dinner of Dal Bhat. The next morning, we would ask our guesthouse to keep our rooms as we walked to the building to see if a flight would be coming in.  This repeated for four days with every day more and more trekkers arrived into Lukla hoping to get a flight out.
Finally, on the last possible day we could get back to Kathmandu and make our Hawaii flight we heard the sound of a plane and could see a blue hole in the otherwise whiteout sky. Lukla terminal was in total chaos as two Nepalese guys at a wooden desk were surrounded by about a 100 people pushing and shouting, most with backpacks and not smelling that nice. Some guidebooks describe fights breaking out between trekkers in the chaos of flight delays. There was a crowd of about 20 riotous people between me and the wooden desk with more behind me as a I frantically waved my six five-day old boarding passes. Somehow, I caught the eye of one of the Nepalese guys and he yells at me "six?" I scream back at him "YES SIX!" frantically waving the boarding passes in the air. The six of us struggled to get ourselves and our packs through the crowd and out to the plane. Finally on board, the plane careens down the steep runway and launches off the cliff before climbing up through the blue hole in the clouds. We were on the only flight that made it into and out of Lukla that day. One night in Kathmandu and the next morning we were on our way back to Hawaii.
---
What is your FAVORITE hiking FOOD?
GRANT: Beef jerky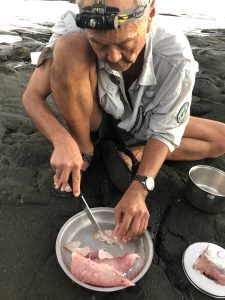 JOYCE: Nuts and an orange
---
What do you BRING ALONG when you go on a hike?
JOYCE: In my backpack, I always carry lots of water and snacks, nuts and fruits. I wear a hat and now I use a pole.
GRANT: No compass and maps anymore but now a cell phone with the GAIA app. No more spending hours over expensive paper topographic maps with UTM coordinate rulers writing down bearings and coordinates on a waterproof notepad, then on the trail taking bearings, adjusting for declination, and trying to figure out where I am on a huge paper topo map. I have in my pack a personal emergency beacon, a good flashlight, and a parka to keep warm and dry if I have to spend the night out. I always carry four liters of water because running out of water is no fun. I typically hike in a fasted state but always have some beef jerky just in case. I prefer hiking boots rather than trail runners and only use hiking poles when backpacking.
---
What is your extent of INVOLVEMENT with HTMC over the years and WHY is HTMC important to you?
GRANT: HTMC has been a significant part of my adult life. Most of my friends and acquaintances are HTMC members and I have learned so much from them through the years. I feel connected to the real Hawaii because of outings I have shared with HTMC people and I am so grateful for that. The experiences I have shared with HTMC friends are my most cherished. I found the love of my life, Joyce, because of HTMC. Hiking and outings with HTMC keep me motivated to live a healthy lifestyle.
I started with Mabel Kekina and the trail clearing crew very soon after joining HTMC and served on the Schedule Committee with her also. Mabel had always been my mentor and I am so grateful to have known her. Being a part of HTMC trail maintenance crew with my daughter Georgina greatly enhanced our father/daughter relationship. She was with me every Sunday from age 12 to about 16 and also went on numerous outings with HTMC (KST backpack, NaPali Coast Kayak, Wonderland Trail #2). I am so grateful to HTMC friends that shared those fun years with Georgina and me.
Mabel always made sure trail clearers attended the annual meetings. I recall Joe Bussen nominated me to serve on the Board about 1993 (?). Later, I served as HTMC President for 4 or 5 years and Public Relations committee for a few years as well. Mabel also encouraged me to lead HTMC hikes. I have enjoyed sharing hiking experiences with members and guests over the years but now as restrictions have ended, I am very happy that enthusiastic hike leaders and trail clearers continue the HTMC legacy.
Grant at Halape in 2019 and Joyce in Haleakala in 2022
JOYCE: From the time I joined the club, Sundays in Hawaii were not the same without hiking with HTMC. My whole routine was centered around the club. I have made great lifelong friends there. HTMC has been my religion and my family.  I served on the board for several years and was Entertainment Chair and Vice President. A disgruntled hiker whose behavior on the trail had been disruptive, once accused me of sleeping with the President!! (Grant was President)  I was active on the T-Shirts and Investments Committees, the Trails / Schedule Committee and Trail Clearing Gang. For many years I was a hike leader – before they were "coordinators."
---
Do you have any concerns about the FUTURE of Hiking in Hawaii? Any advice as to how to balance the increased popularity of hiking with problems of overuse/erosion, access issues and rescues?
JOYCE: The HTMC mission statement includes introducing the trails to the people. We have done that super well with the help of social media. I challenge the club to restate the mission and emphasize the "preservation" and "access" of the trails we do have.
GRANT: My thoughts are that our issues with hiking behavior is a reflection of issues in our society. That is, personal gratification over personal responsibility. Obviously, personal responsibility cannot be mandated or regulated. Many of our issues with trail access could have been avoided if all hikers were more respectful and responsible. From the beginning I was attracted to HTMC's policy that each hiker is responsible for their own safety and well-being. New Zealand seems to have an approach that works which is conservation instead of land use control.
---
What do you think is the KEY to staying fit and active as you age?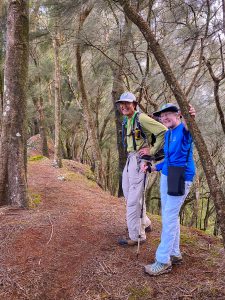 GRANT: For me, a daily 8 hour eating window and eliminating most carbohydrates, refined sugar, "vegetable" oils, dairy, and fruits has benefitted my energy level, mental sharpness, and joint health. Regular cardio and resistance training are essential for overall health. Sleep is supremely important but it is something I struggle with. I do indulge in my daily consumption of wine and a cigar though.
JOYCE: Just keep on moving. Have a personal coach like Grant so that I exercise regularly and eat right – mostly a Keto diet.
---
Is there ANYTHING else that you would like to SHARE with HTMC members?
JOYCE: A natural offshoot of hiking for me has been to get into running. I participated in many 10K runs on Maui and in Japan. I trained for and ran five marathons, three in Hawaii. I became a decadent Hasher with the Hash House Harriers in Japan, Germany and Hawaii. My hash name is Hash Lei. I became the Grand Mistress of the Samurai Hash House Harriers in Japan. Hiking and running blended when I walked the Honolulu Marathon with Jim Yuen.
Another offshoot to hiking was Volksmarching – 10K walks in villages and their nearby woods – in Germany.  I walked 2,000 kilometers while living there.
I also have an interest in river running.  I have been on the Colorado River twice. Other rivers in the West I have been on are the Yampa, American, Middle Fork of the Salmon and the Snake. By boat I have been on the Rhine, the Danube and the Columbia.
I have always been proud to be a life member of the club. It has been an enriching and enlightening experience to hike in harmony with this diverse group of people in our beautiful Hawaii.
GRANT: The value I see in HTMC is its members. All unique, wonderful, and beautiful people who share the experiences of Hawaii's outdoors. I am comforted by and my appreciation goes out to all the younger HTMC members who will continue to guide HTMC.
---
About
Joyce Oka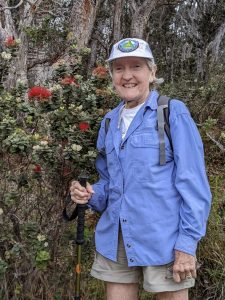 I was born, raised, and educated in Salt Lake City, Utah. I have one sister and one husband. After I graduated from the University of Utah, I drove to California, lived in San Francisco, Santa Rosa and then Mill Valley. I began working in social work in Santa Rosa during President Johnson's War on Poverty. I never left the field for the rest of my career. I worked at the County level in California. After I earned my MSW at UH, I worked for the State of Hawaii and then eighteen years with Federal service. I worked for the US Army in Japan for four years and then three years in Germany. I returned to Hawaii to work for the US Navy at Pearl Harbor for eleven years. I retired from full time work in 2002, worked part time for club member Gretchen Yamaguchi for five years as a vocational counselor and have done volunteer work ever since.
About
Grant Oka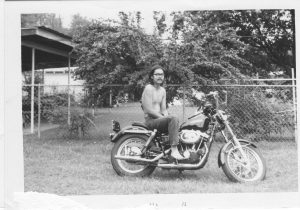 More info than anyone would care to know:
Born 1950 – Honolulu Hawaii.
Childhood years – Kalihi, Kaimuki
1968 – Roosevelt High School.  Ahh, the garage band, surfing, hippy years!
1969 – 1972 US Army, E-5, Military Intelligence Analyst / Linguist-Vietnamese, south dialect
1972-1973 – wanderer on a motorbike.  Ahh, the "easy rider" years!
summer of '72 – Protested against Nixon and Agnew / Vietnam War at the Republican National Convention in Miami with Vietnam Veterans Against the War and took my fair share of abuse.
1973 – Nurses' Aide – Tuscaloosa Alabama VA Hospital, I really needed this job!  Psychiatric Locked Ward – I loved those crazy guys in the locked ward!!  Geriatric Ward – I am so grateful to have had a chance to speak with and hear stories from a veteran of the Spanish American War (he was 104 years old).
1974 – 1976 – Back in Hawaii.  Bartender, Golden Anchor Bar, Hickam AFB.  Ahh, the disco years!
1976 – Leeward Community College, AA.  Amazing I got enough credits for an AA since I enrolled in every scuba class Leeward offered.
1977 – 1979 owner/operator Hawaii Towing Company – what a drag – no days off and 24/7!
1979 – Electronic Institute of Hawaii, Electronic Engineering Technology (towing by day, electronics classes by night)
1980 – 1990 – Electronics Technician, Kaena Point Satellite Tracking Station.  A great place to work and a very long drive from Kaimuki every day!  I recall driving home as Hurricane Iwa hit the west side (82?).
1994 – University of Hawaii, BSEE – I did okay for a 40+ old guy competing with those 20+ young and incredible smart people.
1990 – 2021 – Test Engineer, Pearl Harbor Naval Shipyard, Nuclear Engineering Dept. Thank you for my retirement!
Retirement Activities:
Life with Joyce Oka
Hiking with the Hawaiian Trail and Mountain Club
Grilling steaks, Sudoku puzzles, Wasting time on YouTube
Finding the perfect cigar