Star, Filler, Thriller and Spiller: Lei Making with Myrtle Wong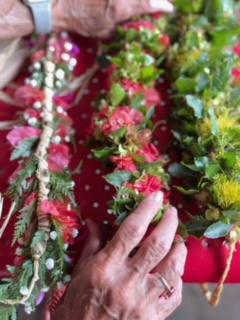 On Saturday April 29th HTMC Member Myrtle Wong volunteered to lead a Wili Lei Making Event at the clubhouse (often referred to as haku or lei po'o) in honor of the May Day celebration in Hawaii on May 1st. Myrtle and a group of friends have been coming together for years before every May Day to create wili leis. HTMC was grateful that she was willing to share this special tradition with our members.
Over 25 of us gathered at the clubhouse to learn the art of wili making. Myrtle and her friends brought raffia, banana tree bark, extra flowers and greenery along with 2″ x 4″ boards with nails in them. The participants brought their own flowers and greenery; either gathered or purchased. As Myrtle demonstrated the art of wili making, we watched in awe, she made it look so easy!
The first step was to select your materials and according to Myrtle, each lei needs a Star, a Filler, a Thriller and a Spiller. Then Myrtle started wrapping the raffia around the lei materials as she designed a creative pattern. She informed us it takes her between 30 minutes – 1 hour to make a wili lei. But for those of us new to this art, it took much longer, along the way we persevered with patience, determination and Myrtle's encouraging words. In the end, everyone's lei's looked beautiful and unique!
Thank you Myrtle for sharing this tradition with HTMC. As a token of gratitude HTMC presented Myrtle with the book Lei Aloha: Celebrating the Vibrant Flowers and Lei of Hawai'i by Meleana Estes.
All images above were taken by HTMC Member Chantel Dunlop; Mahalo to Chantel for documenting this event so beautifully!