HTMC Trail Clearers Receive Appreciation Awards from DLNR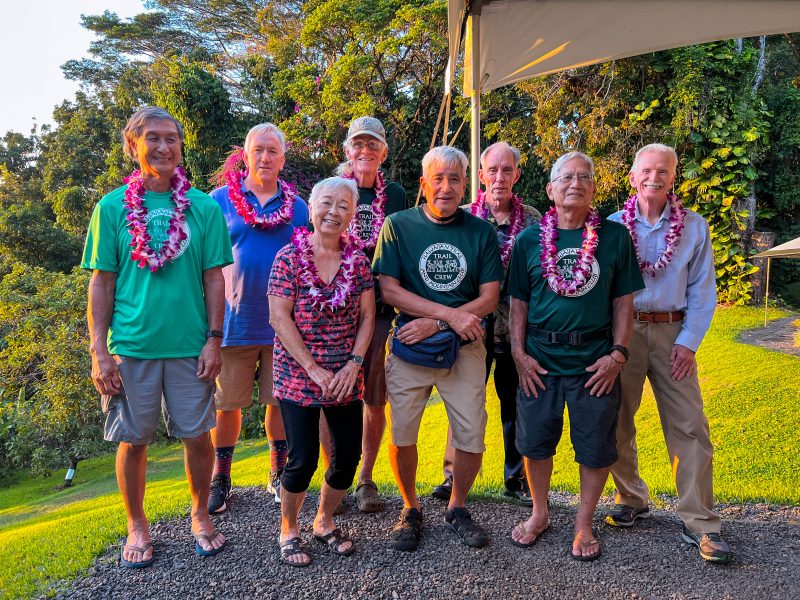 On December 14, 2022 the Department of Land and Natural Resources, Division of Forestry and Wildlife and Na Ala Hele gathered together at the Nutridge Estate for the Oahu Na Ala Hele Volunteer Appreciation Gathering to present awards to group's and individuals who have helped volunteered to maintain Oahu trails over the years. Suzanne D. Case, DLNR Chairperson presented the awards, while Aaron Lowe and Marigold Zoll presided.
HTMC was presented with a Certificate of Recognition for Outstanding volunteer contributions for the Oahu Na Ala Hele Trails and Access Program. The club award was accepted by HTMC President John Braum. A group of dedicated HTMC Trail Clearers were included in the individual awards; Mike Algiers, Doug Klein, Ed Mersino, June Miyasato, Ken Suzuki, Darrell Teruya, Thomas Yoza. You can read more about their ongoing contributions to the trails in their bio's below, beautifully written by Winona Farias.
Mike Algiers
Mike joined the Hawaiian Trail and Mountain Club in 1996. Since then he has become a valued leader of the trail clearing crew. He has done everything from dig out landslides with his shovel to clear trails of uluhe and clidemia with his hedge trimmer. He has also fashioned a number of wooden, green trail signs from home. These signs have been placed all over Oahu at various summits and junctions and are a beautiful reminder to hikers of where they've been and where they're going. Mike is also talented at drawing comics, and his artwork is featured on every clearing since he designed the logo for the crew shirts. Speaking of comics, Mike is himself a funny, witty man, and any conversation with him is sure to end with some laughter. He brings joy along with him on his travels around the world to places like Corava, Italy and to every clearing he attends at home. So if you see a tall man with long, white hair and glasses walking along, make sure to stop and talk to him- you'll be glad you did.
Doug Klein
Doug "Dusty" Klein worked in pathology as a med tech in the army before working in the civil service for many years. A hiker early on, he capitalized on being stationed in places like Germany and Italy where he could easily access some of the best mountains on Earth, including the Dolomite Alps. He has also climbed Kilimanjaro and continues to travel to exciting corners of the world such as the Galapagos Islands. Although he now lives on Oahu, his favorite island is Kauai, and he has been to Kalalau a whopping 47 times. Dusty volunteers his time with Kupuna Day Care, a native plant restoration project near Puu Kaua, and is a valued member of the Hawaiian Trail and Mountain Club trail clearing crew. Although he regularly attends clearings, you might not see him because he is often the fastest and first one out. If you're lucky, though, you might see him relaxed and reading the paper in his car either guarding the rest of the vehicles or just waiting to make sure the first of the rest of the group gets out safely.
Ed Mersino
A former math teacher, Ed earned his Masters in Horticulture from UH Manoa and later became the institution's County Agriculture Extension Agent. He helped create educational programs for commercial floriculture industries on O?ahu ranging from individual farmers to large organizations. He also continued his studies, earning post-graduate credits in areas such as Soil Science and Crop Physiology. He led volunteer outings for the Sierra Club of Hawaii for over 20 years, including hikes to Kahuku Point and workdays on the Manoa Falls trail. He continues to participate in small volunteer groups executing important activities such as step repair on Kuliouou ridge and native plant reforestation near Kaua. A valued member of the Hawaiian Trail and Mountain Club since 2008, Ed can be found on trail maintenance days creating water diversions or removing large fallen branches from across the trail. Even in his own free time, he can be seen maintaining one of his favorite trails like Manana or Waimano. Just look for the dapper man in the wide-brimmed hat with his trusted pulaski in hand and a great big smile on his face.
June Miyasato
June can be found most weeks alongside Kenji maintaining a trail such as Aiea Loop and sawing, cutting, or lopping alongside the weed whacker in order to make the path as beautiful as possible. You can see her love of puzzles as she works, finding just the right place for everything. As part of the Sierra Club for a number of years, June participated in many hikes and helped to build the Maunawili Demonstration Trail from 1991 to 1993. She was even recognized for being the woman who attended the most workdays. Indeed, she is an amazingly talented woman who, as a single mother for many years, managed to work, raise a family, and still leave space to take care of Hawaii's trails. Her love of nature and of people shines through in her giving nature. June is also a wonderful cook, and no pau hana would be complete without her namasu or some other fabulous dish. Whether it is donating gear to new backpackers or sharing about the history of the club with newcomers, she has a generosity of spirit that is always appreciated.
Ken Suzuki
Ken, aka Kenjiman, was a sought after trail clearer even before he joined HTMC in 1993.  When he wasn't surfing or making music, he took care of trails like Bowman and Lanihuli.  Today you can often find him maintaining the Aiea Loop trail along with fellow trail clearer, June. You know where they have been when a path once overgrown becomes a superhighway. Kenji led many hikes for the Hawaii Nature Center in places like Ka?ena and the P?hole Natural Area Reserve. His hikes were always so popular because he shared his love of history and native flora and fauna with others. He learned about plants from his mentor, Kost Pankiwskyj, and instantly took to the rare plant finder lifestyle, even discovering some of his own. His plant photos can be found in John Hall's book on trailside plants as well as in his own booklets about everything from ferns to lobelias. He has become such a source of knowledge that he often has to endure a barrage of plant id questions on every hike. Yet he stays patient, kind, and humble through it all.
Darrell Teruya
A retired dentist, Darrell turned in his drill for a hedge trimmer and can now be found removing patches of grass or uluhe while clearing trails with the Hawaiian Trail and Mountain Club, which he joined in 2000. While others walk by with their sickles and hand saws, you can find him taking time and care to grub out eroded sections of trail or use his electric saw to cut at large branches that block the path. Darrell can also be seen with Ed and Dusty at Kupuna Day Care or working with the army in places like Laie doing native plant restoration. In addition, he is a part of the very important pre-clearing crew that meets most weeks to help make everyone's job a little easier once the actual clearing day arrives. While his hard work is always very appreciated, perhaps even more treasured is the fact that he has a funny quip and a cold drink waiting for his friends at the end of a hard, hot day at work.
Charlotte Yamane
Charlotte has been a valued member of the Hawaiian Trail and Mountain Club for over 30 years and is a frequent volunteer with various environmental organizations. She has worked with the Oahu Invasive Species Committee, The Nature Conservancy, the Oahu Army Natural Resources Program, the Department of Land and Natural Resources, Kualoa Ranch, and the Plant Extinction Prevention Program, just to name a few. She was even recognized as a community hero during the 2015 Hawaii Invasive Species Awareness Week. She has extensive natural resource knowledge and skills, which she both shares as a teacher and puts into action doing tasks such as removing albizia from Hakipuu Valley. Charlotte has taught various individuals and organizations about invasive species, natives plants and animals, and the importance of healthy watersheds. Though always humble and unassuming, she has the respect and adoration of many respected individuals in the conservation world as well as those who just wish to be more like her one day. Charlotte is an endless source of inspiration to many, and she is encouraging a whole new generation to care for Hawaii as she does.
(Charlotte was not avaliable to attend the ceremony)
Thomas Yoza
Thomas joined the Hawaiian Trail and Mountain Club in 1999. That same year, he and two other members found a pair of Danish girls that were lost in Kahana Valley for eight days. Then, in 2008, when Australian hiker, John Parsons, went missing on the Waimalu Ditch trail, Tom went out 25 times over the course of a year to look for him and help bring closure to the Parsons family. Thomas truly has a knack for remembering, finding, and creating trails. His mind was sharpened during his time serving in the US Air Force and while working in Information Technology. He was also a skilled runner and mountain biker before he found hiking and became one of the leaders of the trail clearing crew. When he is not weed whacking or using his hand tool of choice, shears, to clear a trail, you might find him pausing a moment to recognize a special pohaku or flag an unusual plant. Tom continues to amaze everyone with the energy he gains from just some trail mix and pop tarts, and he is still going strong today.
The Nutridge Estate, on the east side of Tantalus near Puu Ualakaa State Park, was a beautiful setting for this awards ceremony. Mahalo DLNR for recognizing HTMC and these individual Trail Clearers for their hard work. Other groups and individuals included; Sierra Club Member Randy Ching, Peter Barker for his native plant reforestation near Kaua, Tony Barnhill for his volunteer trail mapping rejects (including creating the Tantalus Trailways maps), along with two members from HURT who coordinate clearings and last but not least, the Dirt Biker Gals from Kahuku Motorcross Park. Also in attendance was Lena Haapala from Kokonut Coalition. It was a wonderful celebration for everyone who received recognition for their hard work on Oahu trails. Mahalo DLNR!