HTMC Holiday Luau Recap: It's a wrap!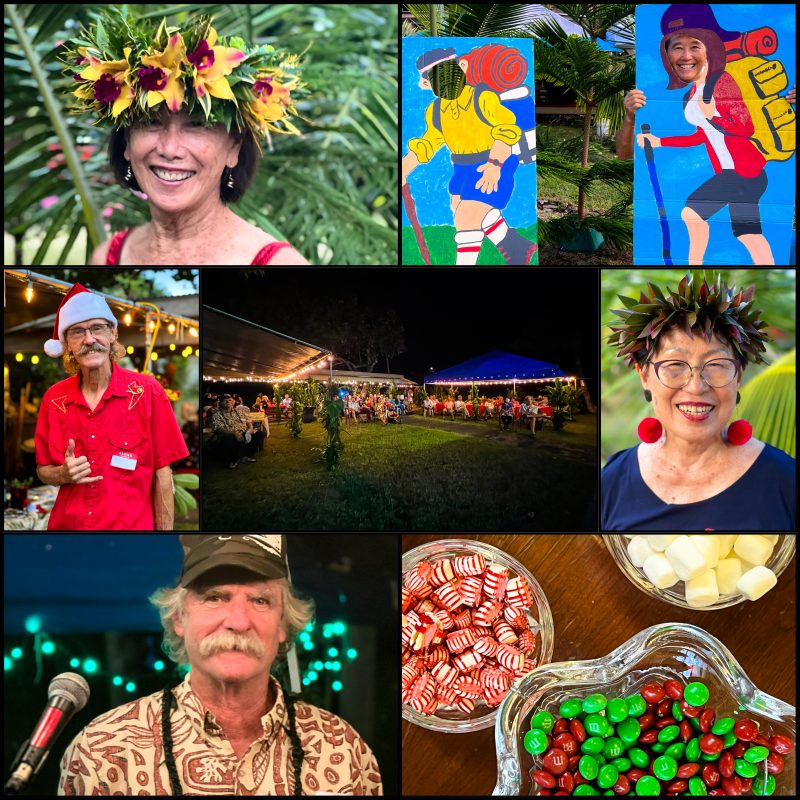 This years' HTMC Holiday Luau was on December 3, 2022. It was a huge success, after taking a two years pause due to the pandemic. The luau is a historic club event  that was inspired after images of the luau in the 1950's were brought to the attention of the HTMC Event Committee. The first luau revival was held in 2015 and it had been an annual event until the pandemic put it on pause for two years.
This year's luau was a potluck event and included an optional lei exchange and entertainment in the form of: hula dancing, guitar playing, the HTMC Toe Jammers singers and a slideshow featuring this year's club hikes. Other luau activities included; a Hike Trivia Quiz, a Cookie Decorating Contest and a raffle. The luau Food Committee made meat and veggie laulaus along with squid luau. This year's Greenery Committee was especially dedicated and spent 4 days prior to the event collecting greenery. In order to make sure everyone in the club could attend, this year's luau was limited to HTMC members and their family. Our records indicate that 89 people attended this years luau.
To view Dale Yoshizu's HTMC 2022 hike slideshow CLICK HERE
To view David Johnson's video documenting the event CLICK HERE
The luau would not be possible with out the many volunteers who lended a hand.  Luau Roles & SubCommittees:
Luau Event Chair: Hawkins Biggins 
Luau Event Co-Chair: Larry Lee
Cookie Contest – Sandi Shriver
Clean up – Pat Rooney 
Decorations – Hawkins Biggins 
Emcee – Larry Oswald
Entertainment – Larry Lee
Food – Myrtle Wong
Greenery – Larry Lee
Hiking Trivia Quiz Creators – Blaise Smith & Des Matsuno
Hiking Trivia Quiz Judge – John Miller
Holiday Cookie Making – Hawkins Biggins 
HTMC hike slideshow – Dale Yoshizu
Lei Making – Winona Farias
RSVP Google Doc & PayPal donation – David Chin
Set Up – Hawkins Biggins
Slideshow host – John Braum
Sound man – Bob Tyson
Additional Luau Committee Members: 
Sandy June Akers, Barb Bruno, Elena Dobrica, Bobbie Foster, Jeanne Furukawa, Dominique Gere, Jeff Gere, Alvin Ito, David Johnson, Jane Lee, Liz Lee, Wendy Lee, Judy Lynn Marshall, Carole Moon, Justin Ohara, Stewart Taggart, Roy Tanaka, Kimberly Tangaro, Dale Yoshizu, Julie Varela and Valerie Wang.  
A big Mahalo to the Entertainers: 
Hula Dancers: Nani Elm and daughter Joelle (Nani is David Johnson's niece), Cassie Lee Okumura (Larry & Wendy Lee's daughter).
Classical guitar performance: Andrea Fleig
Toe Jammers: Sandy June Akers, Brian Fagan, Winona Faris, Jane Lee, Larry Lee, Kimberly Tangaro, Dale Yoshizu and Myrtle Wong.
Hike Trivia Quiz: 
Mahalo to Blaise Smith & Des Matsuno of the Books & Records Committee for creating this year's Hike Trivia Quiz. John Miller stepped up to be the judge and Dana Miller handed out the Patagonia prizes. Mahalo to Patagonia for their generous donations for the quiz prizes 
First Place: Barb Bruno and Hawkins Biggins
Second Place: Dale Yoshizu 
Third Place: Luke Wasserman  
Cookie Contest: 
Mahalo to Sandi Shriver for heading up the Cookie Contest and prize categories this year – she purchased and donated the cookie decorations & prizes.
Most Beautiful: Andree Paradise & Hawkins Biggins
Most Creative: Sandy June Akers
Most Unfortunate: Chrystie Brandt 
Raffle Prizes:
Mahalo to the following members who's generous raffle donations totaled over 30 items:
Hawkins Biggins, Malia Collins, Dominique Gere, John Hall, Wendy Lee & Larry Lee, Cassie Lee Okumura, Andree Paradis, Luke Wasserman, Julie Varela and Myrtle Wong.