Flora of Hawai'i: Alahe'e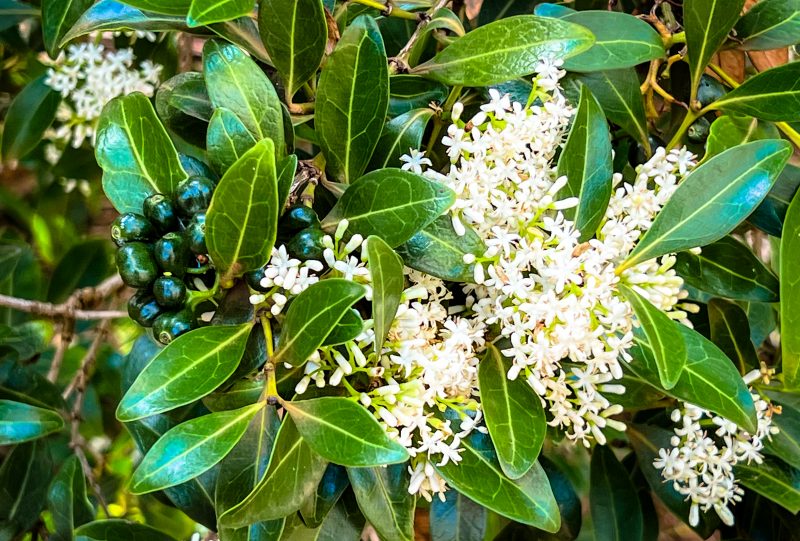 Alahe'e is an indigenous plant: It is found on all of the Hawaiian Islands, other names: Walahe'e, 'Ohe'e.
Hawaiian name meaning: alahe'e means slippery/wandering fragrance or "slippery like the squid (octopus)." Ironically, spears were fashioned for capturing he'e (octopus) and were often made from alahe'e.
Botanical name: Psydrax odorata (Madder: Rubiacae or coffee family)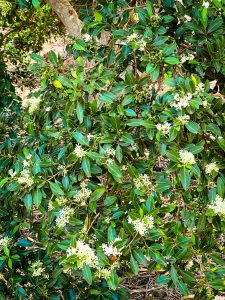 Range: Found on all Hawaiian Islands except Kaho'olawe, Molokini, and Ni'ihau. It is found in habitats that vary such as shrubland to dry, mesic and wet forests from about 30 to over 3,800 feet. It is a tall shrub, can be grater than 10 feet. Trees range from 15 – 50 feet.  
Flowers: white, highly fragrant flower clusters. The fragrance, mild to very strong, is usually at its peak in the mornings. Blooming period can be sporadic but most often in winter. In addition the flowers are used in lei. 
Fruit & Seeds: The fruits are glossy, dark purple to black, round, juicy, less than 1″ in diameter, and containing 1 or 2 seeds. The fruit were used in leis.
Leaves: Elliptic, glossy and leathery green leaves are about 3.5″ long and have a very short leaf stalk. The leaves are vibrant and shinny, bright to medium green.
Traditional Uses: alahe'e is locally renown for its wonderfully fragrant flowers and very hard, durable wood. Spears, from 6 to 13 feet long, were fashioned for capturing he'e (octopus), as well as for, fishhooks, shark hooks with bone points, short spears, and dip nets for fish and crabs. The wood was also made into adze blades for cutting softer wood such as wiliwili and kukui. Reportedly a dark brown or black dye was produced from the leaves of alahe'e by early Hawaiians. The leaves and "the white skin of the stem" are prepared by cooking and the bitter medicine is drunk to cleanse the blood. Also, there is an example at the Bishop Museum (Honolulu, Hawai'i) of the wood fashioned into a bowl.
Landscaping: These non-agressive trees can be slow in growth but well worth the patience. In the landscape this handsome tree can also be planted wherever mock orange, or alahe'e haole, is used. Drought tolerant. But does tolerate moist conditions if soil is well drained. Alahe?e looks and does best in full sun.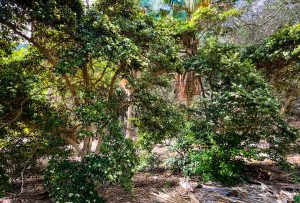 Alahe'e is the featured image on the banner of the October 1, 2022 HTMC newsletter.
Information gathered with assistance from John B. Hall.
Sources:
A Hiker's Guide to Trailside Plants in Hawaii by John B. Hall
http://nativeplants.hawaii.edu/plant/view/Psydrax_odorata/
http://data.bishopmuseum.org/ethnobotanydb/ethnobotany.php?b=d&ID=alahee
https://www.waikoloadryforest.org/plants/alahee/