A Visit to the House of the Sun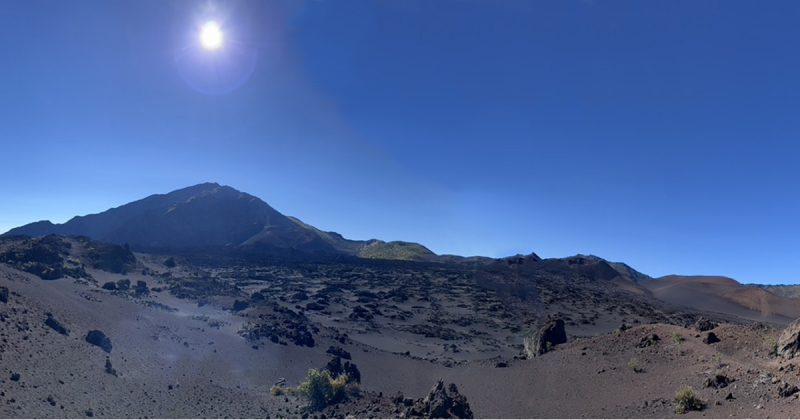 It's 8 am, and three cars are pulled up at the meet-and-greet area of Kahului Airport ready to load luggage and passengers. Everyone is outside their cars- some old friends and some meeting for the first time- making plans to get last minute items and then rendezvous at the Haleakalā Visitor's Center.
The bulk of the plans were made weeks and months ago with the reservation of the cabin, creation and revision of the guest list, and so on. However, two things almost stopped this trip from happening: a tropical storm and the flu. While we still don't know what Calvin will do as we prepare to head up the mountain, at this point we're fairly certain we're just looking at a wet, windy Wednesday. Meanwhile, our trip coordinator, the man who did most of the legwork to get us all here, is sick in bed at home. Des would be missed on the trip, but luckily David stepped up as lead.
After a while, people get into their vehicles and are off to their respective destinations. By the time everyone regroups, redistributes bags, and parks/hitchhikes, it's about 11:30. That is when our hike from the summit down Keoneheʻeheʻe (Sliding Sands) trail begins.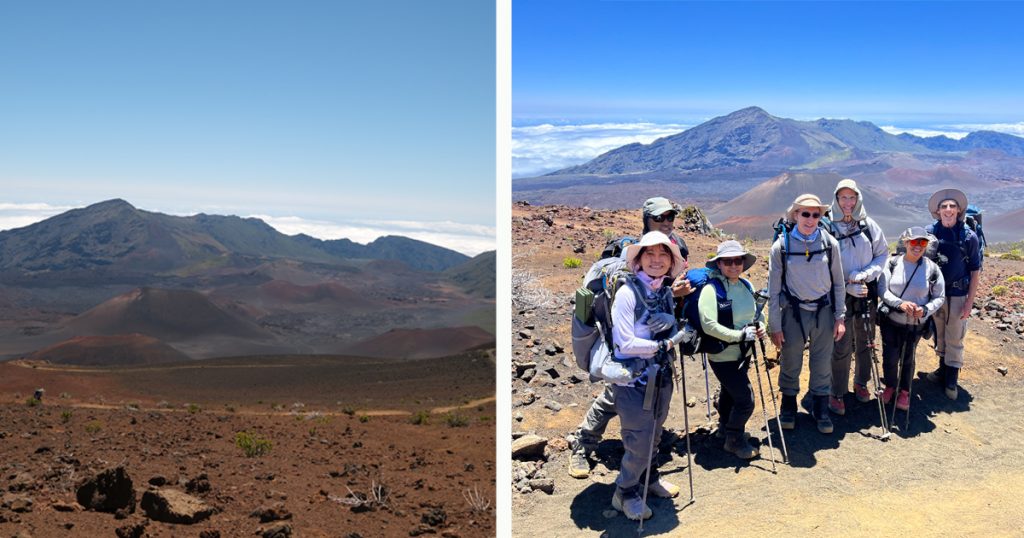 The trail and the group of seven hikers: Jane, Earl, Minori, Chris, David, Winona, and Kris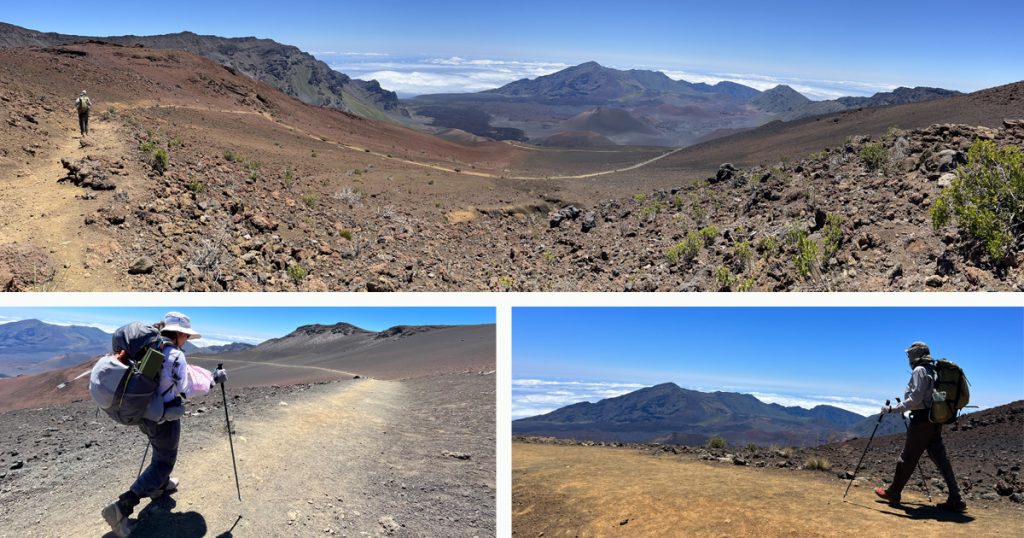 Jane and David heading down Sliding Sands
It is a long, winding downhill walk, and the sun is blazing. We manage to stay cool as pre-storm breezes are constant and welcome. Along the way, we see many native plants. Probably the most famous of them is the Haleakalā silversword or ʻAhinahina (Argyroxiphium sandwicense subsp. macrocephalum). Silverswords flower only once before they die and their seeds are dispersed by the wind. Flowering usually occurs from July through October, so we are here at a great time to see them in bloom.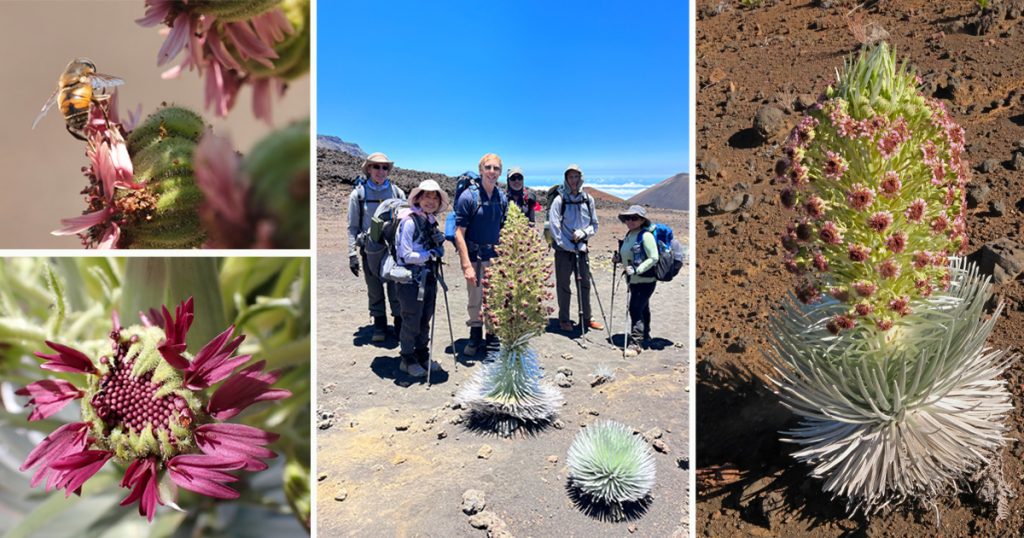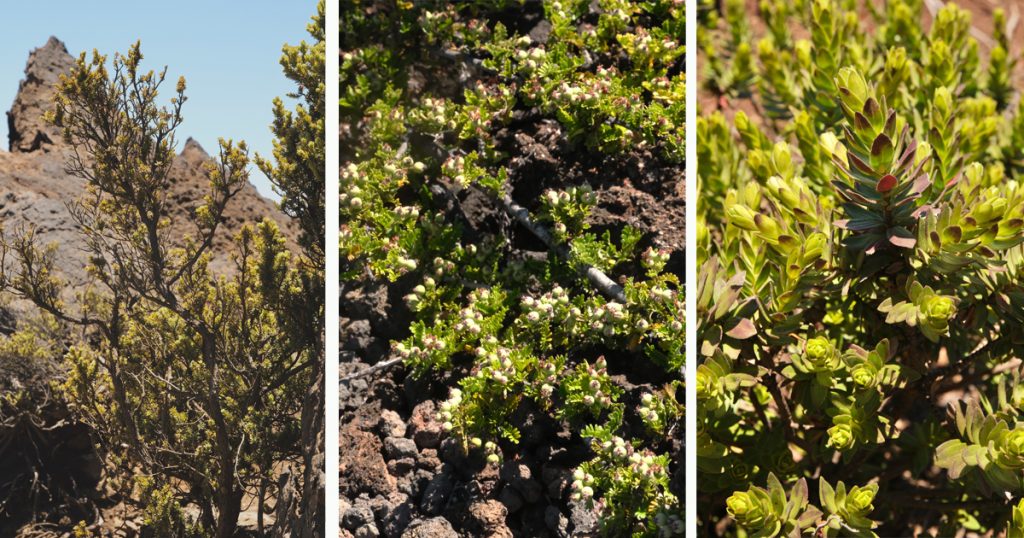 Pūkiawe, ʻŪlei, and Kūpaoa are more beautiful plants that thrive in this arid landscape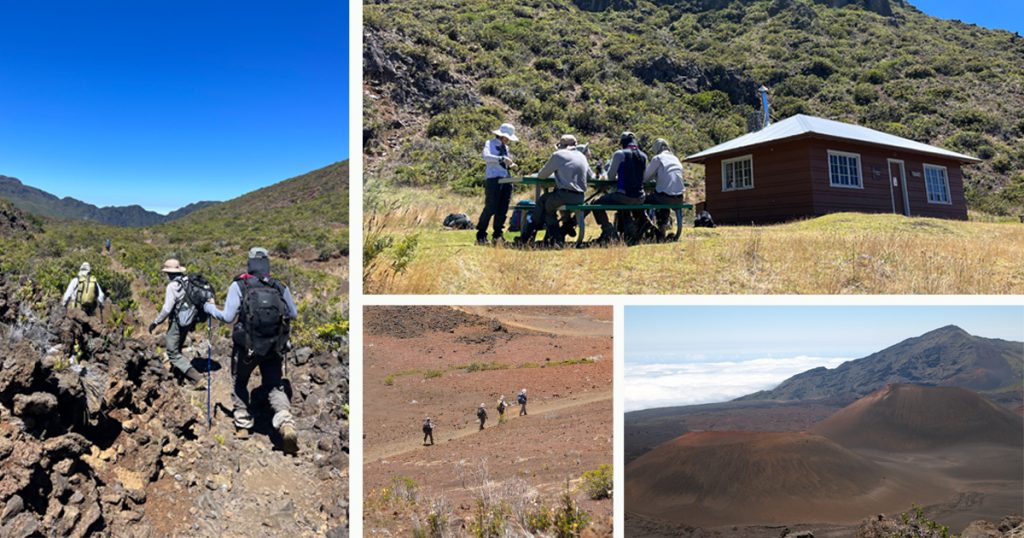 The terrain changes from mostly sand to mainly rock with more vegetation as we make our way on the crater floor.  Cinder cones tower above us and create rainbows of rock.  Yellow, red, green, and brown stones decorate the steep, conical marvels.  We can't stand in awe forever, though, so we make our way to Kapalaoa cabin for lunch.    
9.3 miles from where we began is our own home for the next three nights, Palikū cabin.  Set against the cliffs that make up the farthest wall of the crater from the summit, Palikū is often foggy and rainy.  The extra moisture makes this spot exceptionally cool and lush. We are greeted by our Nēnē friend/guard who, unfortunately, is limping while doing its rounds.  The cabin itself is equipped with non-potable water, a wood-burning fireplace, a propane stove, and padded bunks.  There is also a large table inside covered with carvings from previous tenants.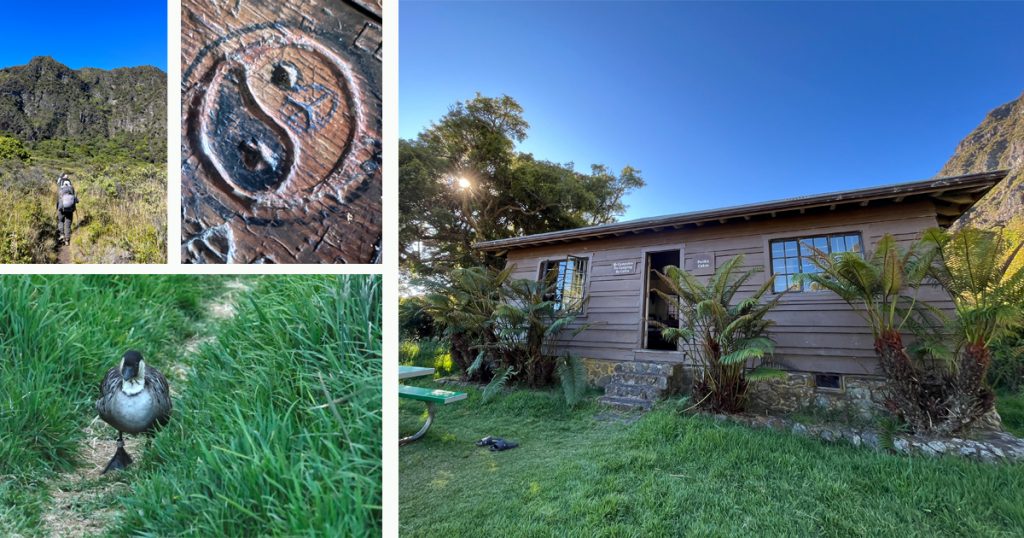 Upon arrival, everyone picks their bunks, unpacks, and admires one another's gear.  We ponder over profound questions like whether sleeping bags or quilts are superior and whose dinner looks the most delicious.  Later on we enjoy a beautiful sunset, play a rousing game of Monopoly Deal, then gaze in wonder at the starlit sky.  No moon and no clouds means that our view of constellations such as Ka Makau Nui o Māui (Scoprio) is unobscured.  Hōkūnohoaupuni (The Milky Way) arches brightly over the mountains, moving slowly over us as Monday turns into Tuesday and our journey continues.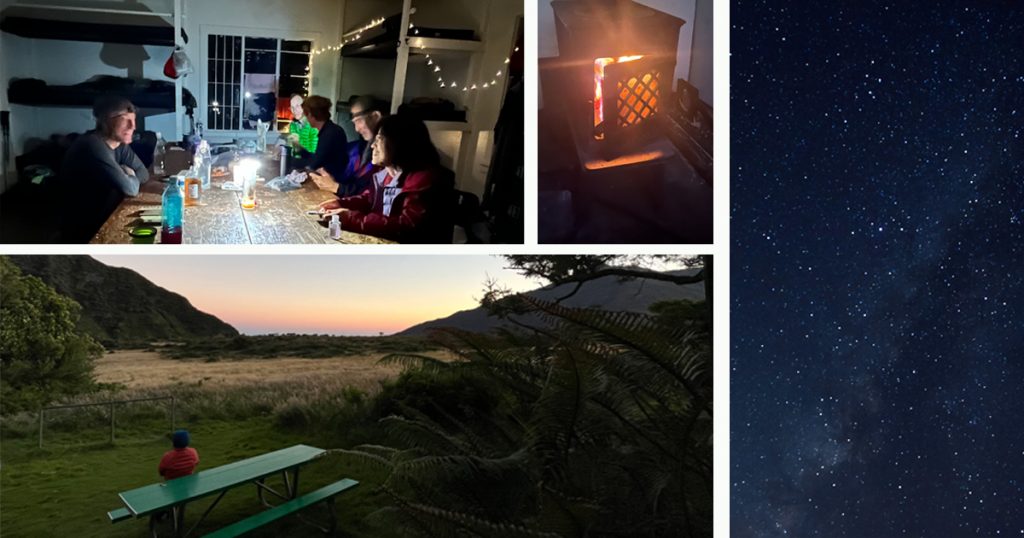 ---
The new day begins with a discussion on how the night went.  How did you sleep?  Did you stay warm?  Who was snoring?  But we can't sit and gab all day as there is a crater to explore.  Outside in the crisp morning air, the sun shines on the tops of the mountains and slowly makes its way down to the fields surrounding the cabin.  We decide to go down part of Kaupō Gap, admiring the well-made trail and many native plants like koa along the way.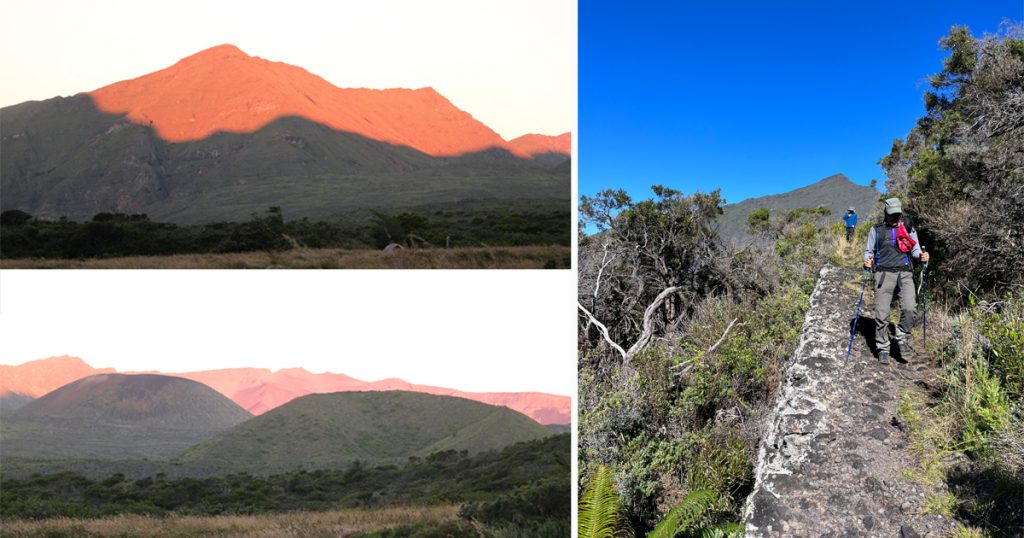 Earl coming down the trail after the group watches the sunrise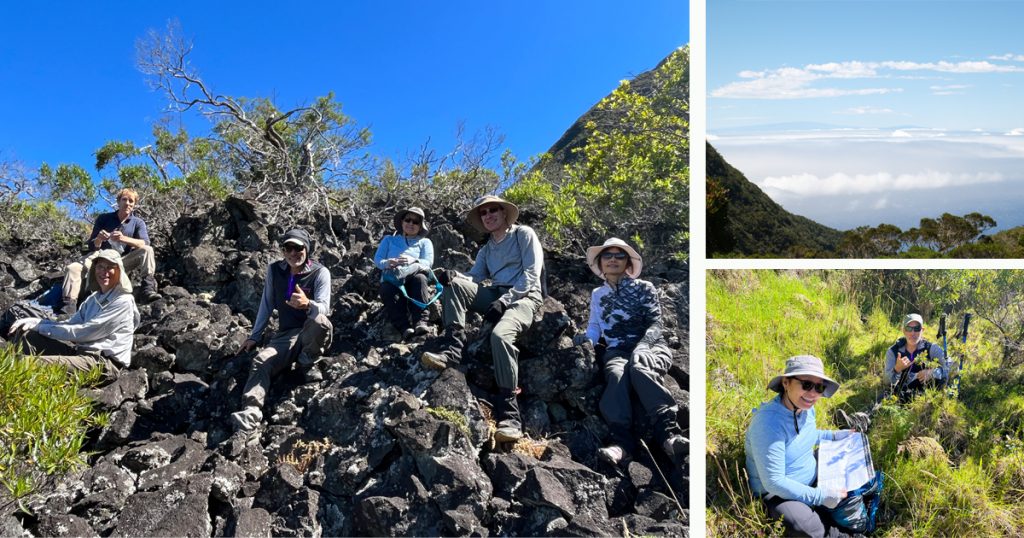 Taking time to admire the clouds and mountains in the distance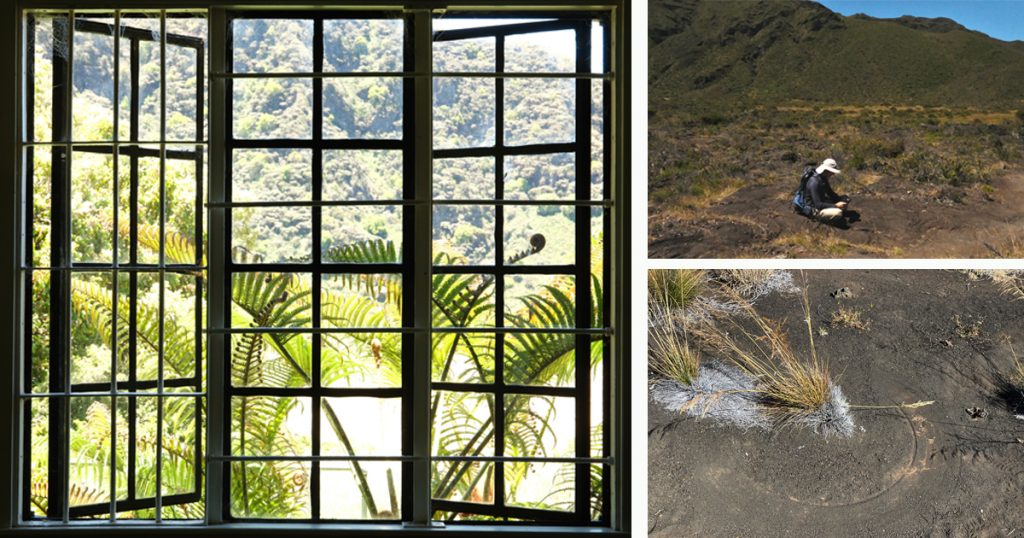 After a jaunt in the forest, we come back to the cabin for lunch with a view.  Then some of us head out again to do a loop in the crater.  Before that, though, people stop at "the cell spot" from which texts are sent and Duolingo streaks are kept.  On our excursion, we see many interesting sights and some cool examples of geological processes at work.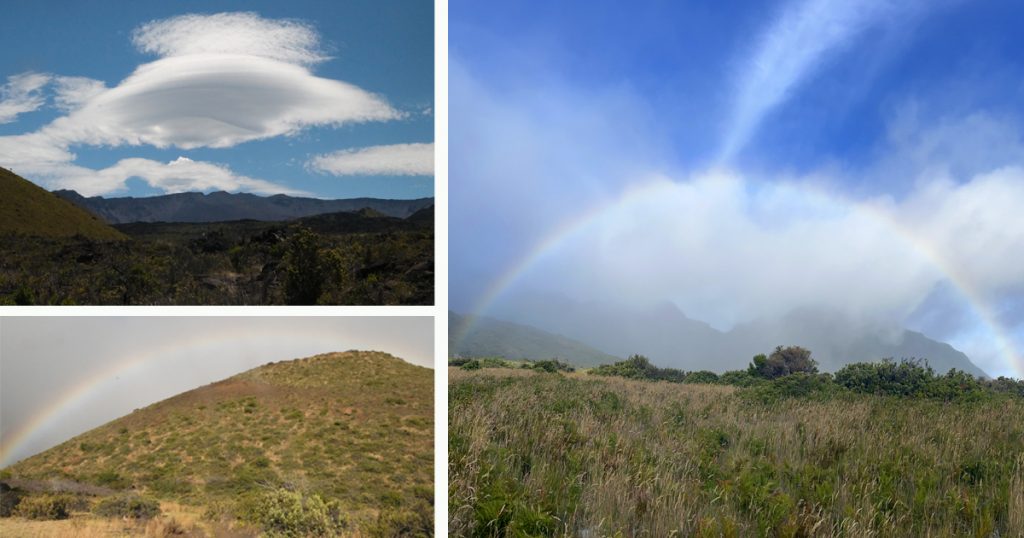 The clouds are something, too!  Lenticular clouds above the mountains make the already otherworldly surroundings seem even more alien.  As we approach the cabin in the late afternoon, a slight drizzle from the approaching storm brings with it rainbows that are simply breathtaking.  Of course, it could also just be that we are exhausted and at 6,380 ft elevation.  Nevertheless, now it's time to gear up for what will probably be a rainy night.
---
True to the forecast, it rained enough overnight to fill both the gutters and the mountainsides.  We watch the misty rain from the warm comfort of the cabin before part of the group decides to venture out in full armor to hunt down as many waterfalls as possible.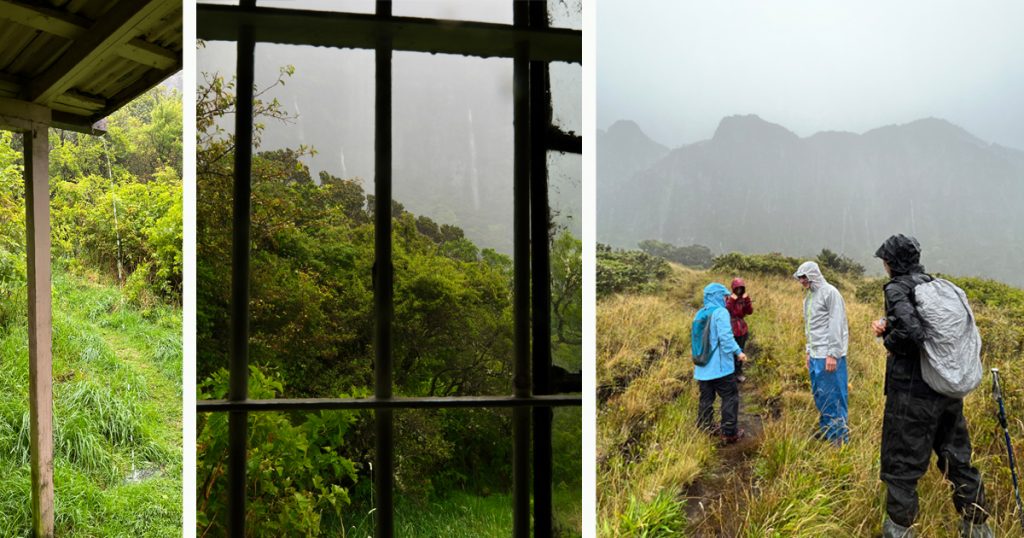 The same walk down the gap that we did yesterday proves to be a totally different experience while drenched.  ʻŌhelo berries and lehua blossoms are covered in raindrops, and chutes that were dry yesterday now have freshwater cascading down them.  It is just lovely!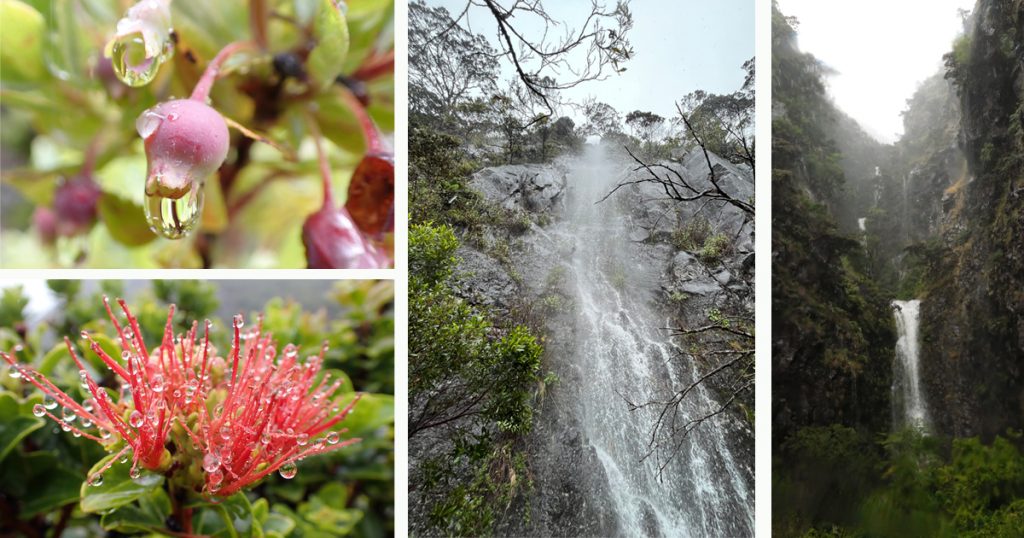 A couple hours later, back under shelter, we change into comfy clothes and hang our damp duds behind the cabin to dry.  Inside the cabin, people listen to music, read, and play games.  One person decides to leave for a hike into the crater, and the rest of us eat, talk story, and start packing for the trek out.  The sun makes an appearance just in time to help things dry a little faster before setting, and we enjoy another cloudless night of stargazing after dinner.
---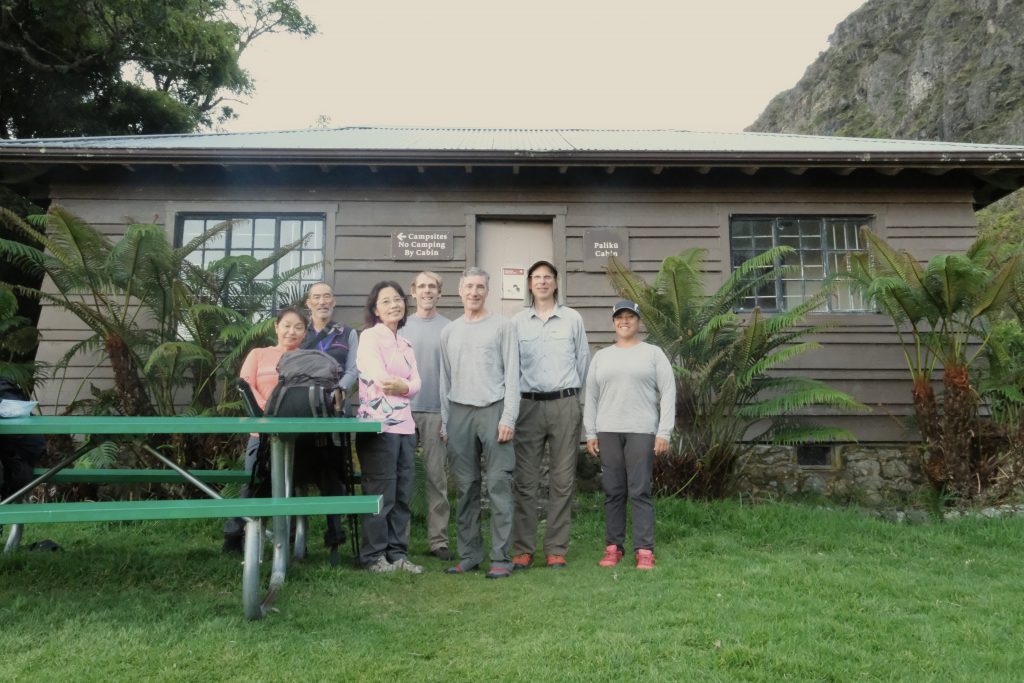 Everyone is up pretty early in the morning on Thursday in anticipation of our 10.4 mile journey out of the crater.  After a group photo, people check that they have everything, clean up the cabin, and start to leave.  The sun is behind us as we walk out, so it's important to stop now and then and enjoy looking at it as it rises.  There is also more flora and fauna to enjoy like a special ʻiliahi (sandalwood) found only on Haleakalā, nohoanu (geraniums), and the native wolf spider.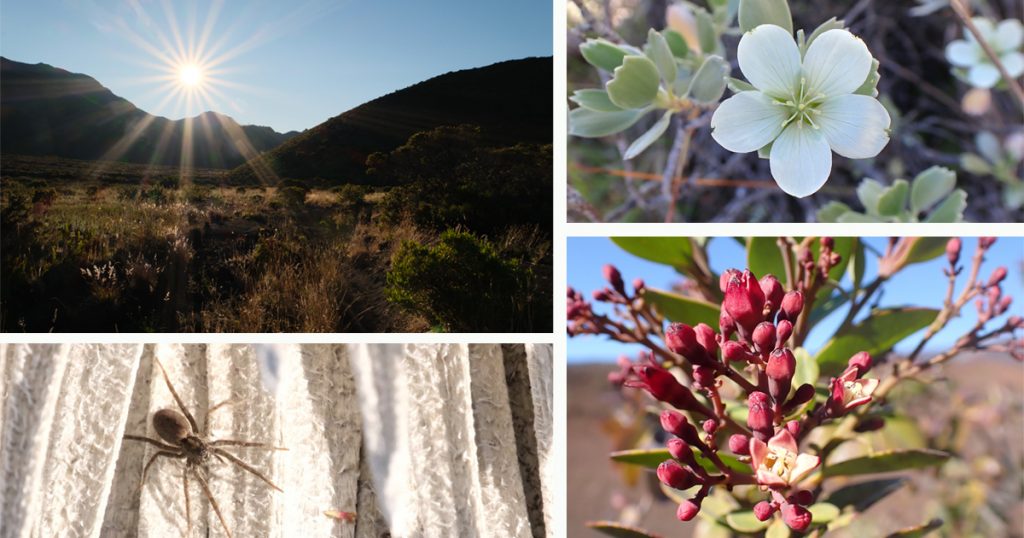 It is no small feat climbing out of the crater, but there are lots of beautiful views along the way.  We ride the cinder cone roller coaster, circle the mounds of stone and sand, gaze at the lava tubes, and catch a break at Hōlua Cabin.  Then it is up the 3.7 miles of switchbacks where we gain 1,050 feet in elevation and a new sense of empathy for the hikers we saw going up Sliding Sands just a few days earlier.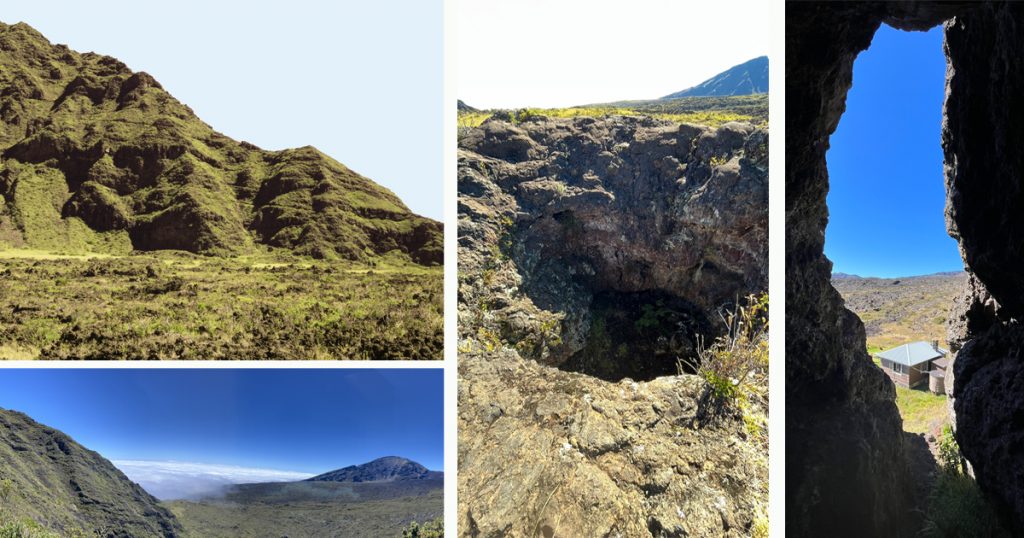 One by one (or three), everyone makes their way to the Halemauʻu trailhead where our cars are waiting for us.  At 1:15 pm, the last of the group does a victory walk past the trail sign and joins the rest of us in changing shoes and talking about how great this trip turned out.  We huddle together for a moment of sunburnt and sweaty solidarity before going our own separate ways once again. 
Thank you to HTMC for providing opportunities for trips such as these.  I think I speak for everyone when I say that it was a wonderful experience.