The Clubhouse Chronicles: What Does It Mean to Be Home?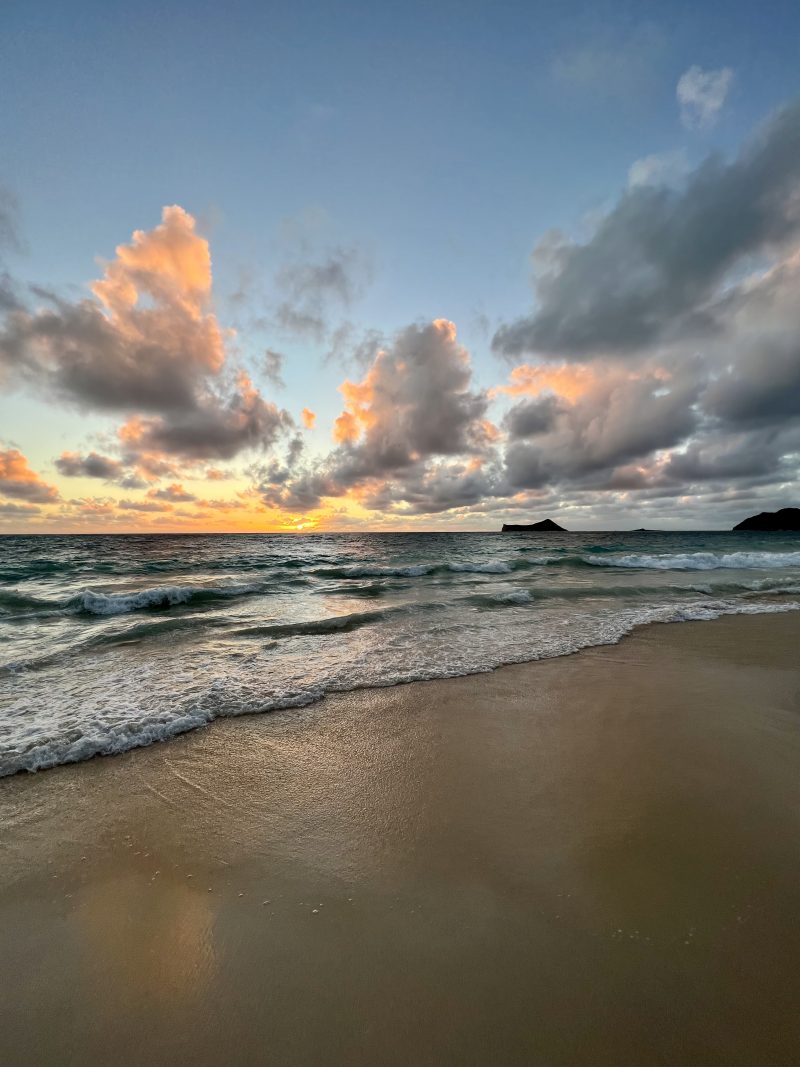 Bio: Malia, Josh, and Mehana Collins are the newest live-in residents at the HTMC clubhouse. Malia was born and raised in Maunawili and has always talked about moving back home. She started writing a series on moving to and living at the clubhouse. This is the third installment. 
Life at the Clubhouse: What Does It Mean to Be Home?
When I tell my friend Norma, a Zen Buddhist priest, that I'm trying to figure out what home means while we're living in a house that is temporary, she says it's not the container that makes the thing, but what we're doing within the confines of the space that matters. Don't be dependent on the container, she says. That's where I get stuck. For 23 years, our house in Boise was where we lived and raised kids, where we worked and played and dreamed. In the darkest times of the pandemic, Boise was our shelter and our refuge. It was there we decided to leap and move across the Pacific to the HTMC clubhouse, a place we'd seen once, driving by, the summer we became hiking club members. We'd never been inside. The clubhouse was our wilderness. One day walking up the stairs in our Boise house, I imagined walking up the stairs at the clubhouse, and in that moment, I knew we could live there. I saw us there. I heard Mehana's voice. I heard a door open and close. That was my sign.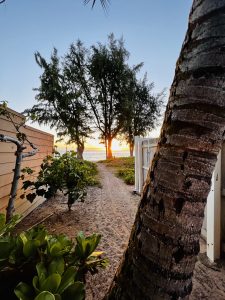 Josh is going on six months in the clubhouse, Mehana and I have been here almost three. Living here has made me rethink what home means. There have been moments in the clubhouse where I feel at home. I feel it when I walk through the gate to the water and swim out past the waves. I feel it upstairs in the kitchen with the Ko'olau Mountains right in front of me. I feel it at night when we're lounging in the big chairs watching a movie or sitting around the table sharing a meal. I felt it at the last clubhouse event, after the movie ended and a few of us sat under the hau arbor talking story. Maybe it's more than home, maybe it's belonging. At the clubhouse, we have our room, and Mehana has her room, but all of the other spaces are shared spaces. When people come over, or stay in the bunkroom, we have to disappear a little bit. We tuck our things into the cabinet doors marked Resident (our bedroom door is marked Resident, too, and our fridge upstairs). Sometimes I imagine how many residents have been in and out of this place and soon enough we'll be the old residents and the new residents will be living here the way we are now. Two weeks ago a group of three stayed at the clubhouse—two adults and a teenage girl, and Josh said—it's like we've been replaced. I've been trying to let go of my attachment to the container. Josh and the kids are home to me. The house we live in is just the container.
Our son Max came home for July and August and this past Saturday, flew back to Harvey Mudd to start his second year of college. This year's leaving was so much less brutal than last year, when we drove to California with him and then back to Boise without him, back into our house without him. The ache was vivid and intense. This year, we dropped him off at the airport and then we drove back to the clubhouse. We spent the day cleaning and tending to things in the house and yard that needed attention. Missing someone manifests in me as heat, and the Saturday Max left was scorching. In the middle of the afternoon, during the hottest part of the day, I went outside and carried my plants from the ground around the perimeter of the unused fire pit onto its edges. I trimmed leaves and rearranged branches and by the time I was done, the sun was nearly down, and the makeshift garden in the middle of the yard brought me joy. It gave me a place to put my sadness. The strange thing about living here is, there is no Max's room, so I can't walk by and look in and see his empty bed, or his bookshelf still crammed full of books. I can't smell his smell, or sit at his desk and work, our books side by side. All that's left of Max here is a blue canvas bag with some T-shirts and four pairs of too-small board shorts. The day after Max left, I was holding a stack of his laundry when the neighbor called me over to the gate. A couple of minutes into our conversation I said—we dropped our son off yesterday to go back to college and I'm holding his laundry because all I have of him in this house is this stack of laundry. I started crying—right there at the gate, next to the street, with our sweet neighbor who's 80 but looks 50 and who said he'd jump the fence to help us if we ever needed it. He looked at me, so gently and said, but isn't that almost easier?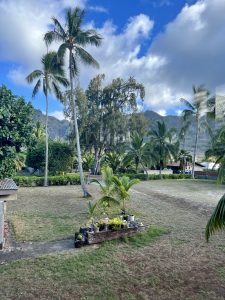 Max's last night home we went down to the beach to swim before dinner. The kids talk story with me in the waves in a way they don't when we're anyplace else. Above the cliffs at Makapu'u, two paragliders hung in the air, almost as if they were holding their breath. The sky faded blue and then silvery and pink. When it gets beautiful like that, the kids and I always say—Hawaii, enough already. I get it. I'm yours. Max bodysurfed in and called as he swam back towards us—I'm so happy I get to come home to Hawaii. To the clubhouse. It's so fun you're living here now.
Maybe that's what home is. Being in a place the people you love want to come back to. It's being surrounded by water and by mountains. It's living a block from the ocean that connects us from this place to the place where Max lives. It's knowing something magical is happening in those moments, when it's us and the waves, and the sound of the kids' voices so close I can still touch them. 
Next month: We live in the hiking club clubhouse and it's time to start hiking….