Hakalau Forest Says Mahalo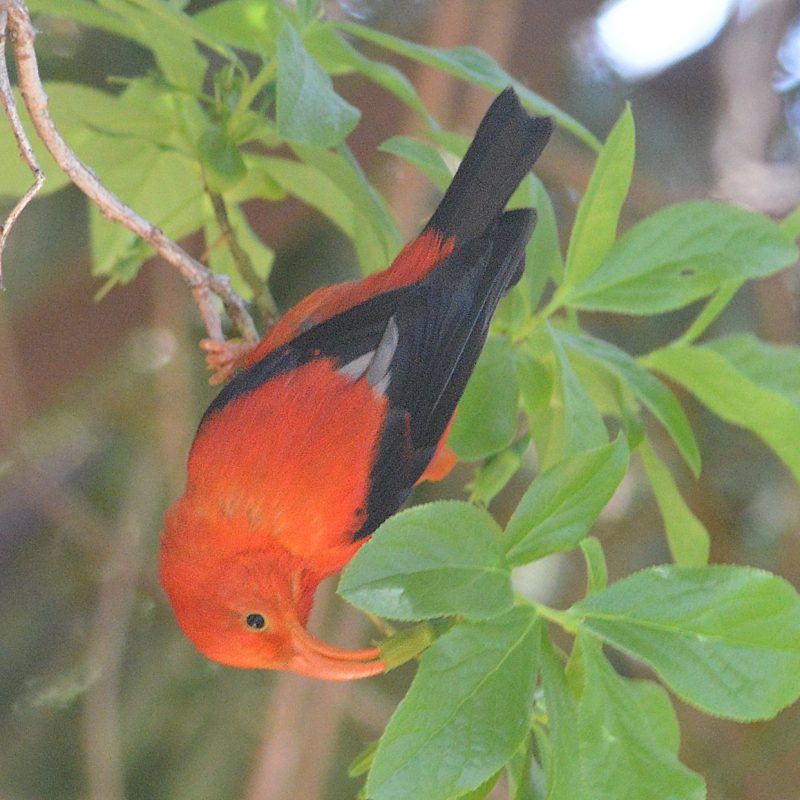 It was a blue-sky kind of day.  The sun was high, the air was cool, and the path broad and easy.  A dozen plus members of HTMC were atop Mauna Kea in the Hakalau Forest National Wildlife Refuge on the Big Island.  Binoculars in hand, they took in a small section of the 33,000 acres of revitalized native forest habitat and the last refuge for many of our native birds.
Last year, HTMC made a donation from our Preservation Fund to help Hakalau Forest save the native birds and their habitat.  Half the 'i'iwi in our state are at Hakalau.  They are fading everywhere else due to mosquitoes and habitat loss.
The Friends of Hakalau Forest were delighted with HTMC's interest and help.  And because Hakalau is difficult to access, the Friends of Hakalau Forest facilitated a special trip for 15 members of HTMC.  On March 25th, a van from Hawaii Forest & Trail, with owner Rod Pacheco as a guide, brought most of the members up 6,500 feet to the gated reserve on the eastern slope of Mauna Kea.  A few minutes ahead of them, another van ferried four more members with Jack Jeffrey, the renowned bird photographer, as guide.
With two professional naturalists by our side, we had five hours to enjoy this all-native environment, spot rare birds and plants and have a provided picnic lunch with much camaraderie.  What we saw is a koa-ohia forest with a lush understory, including 'akala and lobelia in bloom.  We had to watch where we stepped there was so much native mint underfoot.  And overhead we were greeted with all the songs of the i'iwi, apapane, 'akepa and others.  There was never a moment a bird wasn't singing.
The time flew, but the 'akiapola'au had evaded our spotting, although we heard it.  Just as we were about to turn around, Jack Jeffrey spotted a bright yellow male.  Luckily our group was all together, so we all got a good look at this insect eater with the unusual bill which can drill into koa branches and scoop out its food.
When the 'akiapola'au flew off, Winona pointed into the blue overhead and said, "Is that a hawk?"  We all looked skyward.  High, high above us was a large adult 'io soaring and then hovering, just long enough to let everyone's camera go click, click, click.  Hakalau Forest certainly opened its bounty to us that day.
Note:  To learn more about Hakalau Forest NWR, visit the website https://www.fws.gov/refuge/hakalau-forest.  And to learn how you can help Hakalau, visit The Friends of Hakalau at https://friendsofhakalauforest.org
submitted by Marcia Stone
photos by John Hoover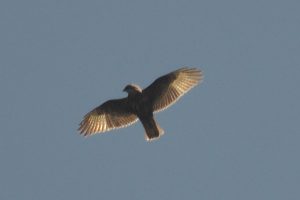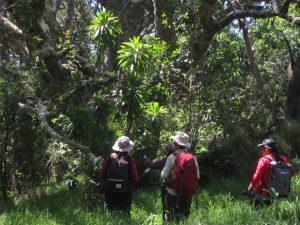 HTMC is considering making this an annual experience for its members. We had no idea that this off-island trip would fill up so quickly. For those who missed getting to go on this inaugural visit to the Hakalau forest and are still interested in going, let us know. If there is enough interest, we will organize another visit, although there will be a fee involved in renting a van. For more information, email hike@htmc1910.org