Emergency Contact: Why, Who and What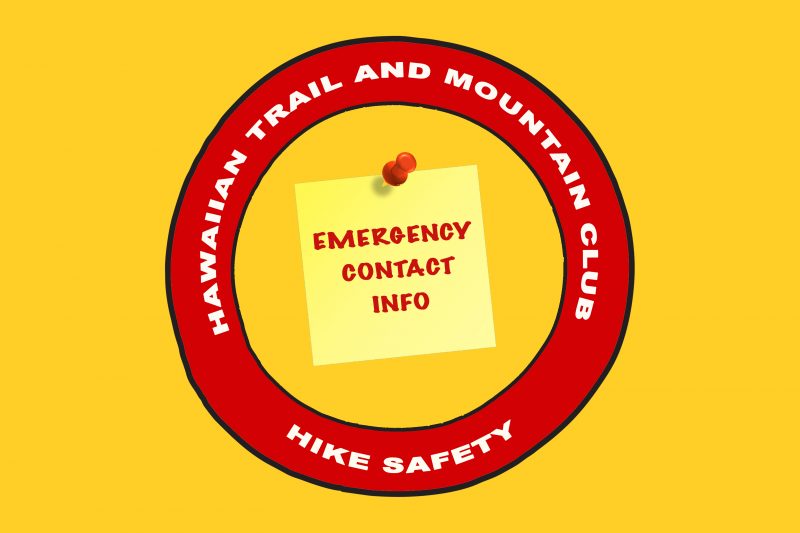 Whether you are asking someone to be your Emergency Contact or agreeing to be someone's Emergency Contact, it is important to be clear on what is an Emergency Contact and what they need to know.
WHY
The unexpected can happen on a hike and it is important that HTMC can reach someone who knows you. If something serious should happen to you and we don't have an emergency contact number, it could take hours or longer for HTMC to find a family member or friend. In addition, this could possibly delay appropriate medical care. This can add to the stress for all involved. 
WHO
Your Emergency Contact person can be a friend or family member.
Someone who is easy to contact. Don't list a friend who is currently backpacking in a remote area in Peru. 

Someone you trust to remain calm and think and communicate clearly in an emergency. Maybe not your 96-year-old grandfather who is hard of hearing and easily gets flustered. 

Ideally your emergency contact lives locally, so they can come to the hospital or deal with pets, kids, parents, etc. 
WHAT
The emergency contact needs to have the following info: 
Essential health information (medical conditions, medication, allergies, etc.)

Health insurance, health care provider and contact information.

Organ donor?

Contact information for the person you have designated to make medical decisions when you are unable to do so (such as who is named in your advance healthcare directive, if you have one).
Other things to consider:
Contact info for family, friends, and employer. Consider setting up a phone tree.

Contact information if there are pets, kids, or family members to take care of.

Where is important information – legal documents (wills, DNR (Do Not Resuscitate), Advance Medical Directive). 
We don't like to think about something serious happening to ourselves or loved ones. But the unexpected can happen and the best decisions can be made if we have a plan.  Please take the time to discuss and make a plan with your Emergency Contact before joining your next HTMC Hike or Trail Clearing. And the next time you join an HTMC hike and are filling out the Hike Waiver form, help out the coordinator and include your emergency contact information.
In the meantime, the HTMC website member profile information form now includes slots to add your Emergency Contact information. Please login to the HTMC website and update your profile. For more info on how to do that CLICK HERE.
As the saying goes: Hope for the best, plan for the worst.
Here is a resource for more information of Emergency Contacts
https://www.goodrx.com/healthcare-access/patient-advocacy/emergency-contact-list

This series of articles is written by the HTMC Hike Safety Advisory Committee