Chef Nina Cucina's Quinoa Salad Recipe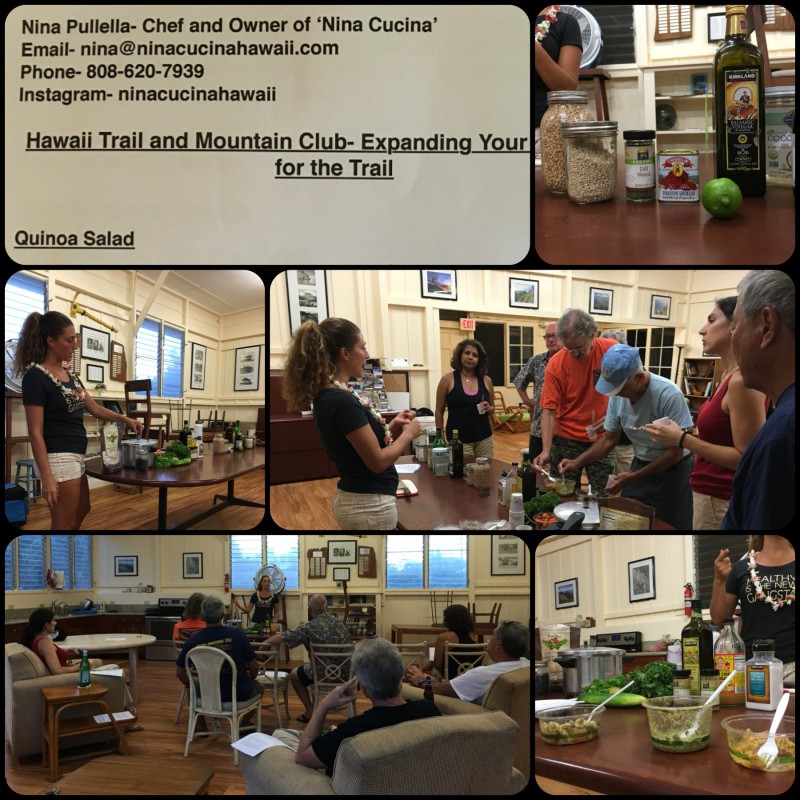 Quinoa Salad
2 cups of dry, uncooked quinoa
1 cup of dried uncooked black beans or 1 can cooked black beans
1 big handful of cilantro, chopped
1 lb cherry tomatoes, halved
1 cucumber, diced
6 stalks of kale, ribbed, torn and massaged in a water bath
1 tbl chili powder
1 tbl cumin
1 tbl spoon sea salt
3 tbl olive oil
1/3 cup lemon juice
3 tbl apple cider vinegar
Place 1 cup of uncooked black beans in a pressure cooker. Cover with 2 cups water, 1 tsp salt and 1 bay leaf. Cook on high until pressure cooker starts to hiss. Once it has pressurized lower temperature to medium and set timer for 25 min. Then turn off heat and let sit until pressure release. Strain and rinse.
*Can also use a slow cooker or stove top technique to cook dried beans*
Place 2 cups of dried quinoa into a rice cooker and cover with 4 cups of water. Set rice cooker to "white rice", if your rice cooker gives the option. When the quinoa is fully cooked and the sensor switches to "warm", leave the lid closed and let sit for 30 min before opening. After 30 min, open and remove from it's cooking bowl to a large bowl or pot big enough to easily mix the quinoa with the rest of the ingredients.
Once the quinoa cools a little but is not yet at room temperature, mix in the seasonings and black beans. Then, when the seasoned quinoa is at room temp, mix in the veggies and cilantro. Now it's ready to hit the trail or store in the refrigerator for later enjoyment!
Other Grain Options:
Farro, Brown Rice, Barley
Other Seasoning Options:
Herbs- Basil, Mint, Dill
Spices- Paprika, Coriander, Parsely
Acid- Balsamic Vinegar, Rice Vinegar, Fresh Lime Juice
Oil- Sesame, Avocado, Coconut
Other Add in Options:
Seeds- Pumpkin, Sunflower, Sesame
Dried Fruit- Raisins, Figs, Apricots
Nuts- Almonds, Walnuts, Pistachios
Beans- Garbanzos, Cannelli, Kidney
Veggies- Sweet Potato, Avocado, Red Bell Pepper, Wilted Spinach, Roasted Beets
Questions? Contact Chef Nina Pullella at: nina@ninacucinahawaii.com
Sample her Quinoa Salad and other healthy local foods at the Waimanalo Co-op!