HTMC Members invited to join the ATC New Zealand Safari: February 24-March 11, 2018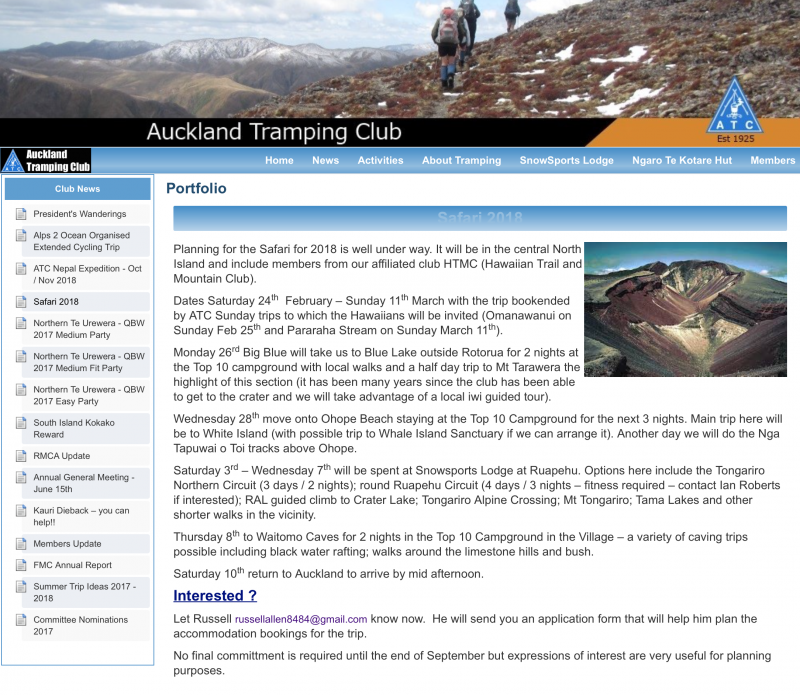 The Auckland Tramping Club ("ATC") has once again generously invited our Hawaiian Trail and Mountain Corporation members to join them on a hiking safari in New Zealand from 2/24/18 to 3/11/18. Please note that, despite HTMC's name in the title of the safari itinerary, the safari is entirely sponsored and organized by ATC. The event is not an HTMC event.
Please see the safari itinerary, below, for details. If you are interested or have any questions, please email Russell Allen, ATC's safari coordinator, at russellallen8484@gmail.com.
The following is the itinerary:
Safari 2018 ATC / HTMC
24th February – 11th March
Sat 24th – easy day hiking in the Waitakere Ranges, west Auckland, exploring some of the varied scenery and tracks of ATC's backyard – waterfalls, native bush trails, black sand surf beaches. Return to Auckland for a get-together dinner hosted by ATC members Dave and Marilyn Best at their North Shore home.
Sun 25th – join ATC on their Sunday tramp from Whatipu Beach at the northern head of the Manukau Harbour up the Whatipu valley by Kura bush track, returning along the ridgeline on Omanawanui Track.
Mon 26th – to Rotorua / Rotorua Lakes – the thermal heartland of NZ. Drive to Rotorua in the morning (approx 3 hours) and then onto Blue Lake. Two nights at the Blue Lake Top 10 Holiday Park, which offers a variety of accommodation. There are a selection of short walks in the vicinity plus swimming in the lake .
Tuesday 27th – Mt Tarawera – morning guided hike with the local Maori (fee payable) to the spectacular crater, a long deep chasm which formed over 100 years ago when Tarawera erupted. In the afternoon hike the Waimangu Thermal Area (entry fee) to Lake Rotomahana; possible water taxi ride on the lake.
Wednesday 28th – morning in Rotorua to explore and / or visit Te Puia (features Pohutu geyser, various geothermal features, Maori village and cultural experiences). Afternoon drive to Ohope Beach in the Bay of Plenty via Awakeri hot springs and the coastal town of Whakatane . Three nights at Ohope Beach Top 10 Holiday Park which is adjacent to the beach and has a variety of accommodation – Ohope is a long surf beach great for walking and swimming.
Thursday 1st March – day trip to White Island – an active volcano a 2 hour ferry ride off the coast from the town of Whakatane. Guided tour of the crater area and thermal features; view seabird colonies along the coast. There is a possibility of incorporating a visit to Whale Island, a nature reserve. (fee payable). Note – trip is weather dependent.
Friday 2nd – hike the Nga Tapuwae o Toi Walkways, 16km / 10 mile loop incorporating historic Maori pa sites, native forest, coastal views, sea bird colonies; can be shorted as desired.
Saturday 3rd – Wednesday 7th : 5 nights ATC Snowsports Lodge, Mt Ruapehu, Tongariro National Park, a World heritage Area. Travel via Wai-O-Tapu thermal area (1 -2 hour easy hike around the geothermal features) and Lake Taupo town (lunch stop) and lake shore.
The Snowsports Lodge needs sleeping bags, otherwise fully equipped; ATC will cater (included in cost). Anyone who prefers to stay at the base of the mountain have the option of booking the (historic) Chateau Tongariro or the Skotel (motel type accommodation ). A variety of options for hiking exist including :
• Tongariro Northern Circuit – one of NZ's designated Great Walks, 3 days 2 nights at modern tramping huts. Need a reasonable level of fitness and be able to backpack own gear for the full hike. Huts are booked prior so bunk ensured for each night – early booking essential as this is a very popular hike.
• Ruapheu Circuit – 4 day, 3 night day strenuous hike which encircles Mt Ruapehu; need to be fit and be able backpack own gear for the full hike; huts cannot be booked and operate on a 'first come first' served basis. Ian will lead a small group if there is interest.
• Day trips – a variety to suit all levels including : the Tongariro Alpine crossing; guided walk (by RAL; fee involved) to Crater lake on Ruapehu; Mt Tongariro, Taranaki Falls and Tama Lakes; Silica Rapids; the Ohakune Old Coach Road.
Thursday 8th – morning travel to Waitomo Caves through the 'King Country' one of the main sheep farming areas of NZ. Two nights at the Top 10 Holiday Park which is in Waitomo Caves village and has a variety of accommodation. Alternative accommodation, including an historic hotel, is also available in the village. Afternoon – time to explore / do the village walk / do the main Waitomo glow worm cave (fee payable) / other options.
Friday 9th – morning Black water rafting (an alternative and easy way to get close up to the glow worms!; dry options available); afternoon hike through limestone country to the Ruakuri Bush Reserve trail and return (2-3 hours easy hiking)
Saturday 10th – morning drive back to Auckland, with options to stop at the Otorohonga Kiwi House and the Hamilton Gardens alongside the Waikato River (lunch stop). Arrive in /Auckland early – mid afternoon.
Sunday 11th – back to the Waitakere Ranges to join the ATC on their Sunday tramp, a classic river trip up the Pararaha River Valley from Karekare Beach on the West Coast. Easier (and dry) options available including walking the black sands of Karekare beach towards Whatipu and / or swimming in the surf .
HTMC – the Safari is based in the central North Island and allows travel and hiking in a wide variety of NZ environments within a reasonably small area. Travel is in the ATC truck bus 'Big Blue' and all travel will be on well formed roads. It is likely that at least one car will accompany the party and some HTMC members may prefer to get a rental car for greater independence.
In most locations a variety of accommodation is possible and individual needs can be catered for; however we will need to know this in plenty of time to make the appropriate bookings. Prices will vary accordingly. Overnight / multiday tramping using our backcountry huts is a quintessential part of our tramping culture and the Tongariro Northern Circuit (one of the Great Walks) is an excellent and very scenic way to experience this. Huts require individuals / groups to be self contained; communal bunks are the norm. Huts on the Tongariro circuit must be booked so a bunk is ensured for each night; this is not the case for anyone opting for the much more strenuous Ruapehu circuit – please contact Ian if you are interested in this tramp. All huts have running water and/ or tank water (drinkable without treatment); toilets are pit / vault / compositing toilets. Individuals / groups need to supply own cooking gear, food, eating utensils – this may be shared if desired.
Everyone will need a rain jacket and rain pants ('overtrousers') and warm clothing, especially for the Rupehu section of the Safari. However, most of the time we expect to hike in shorts and T shirts. Hiking boots or shoes (sturdy) needed, however we don't use cleats as in Oahu hiking. Bring walking poles if you use them and a good day pack.
Bring a sleeping bag and pillow case, towel and toilet gear. A detailed gear list will be supplied later.
For those arriving early / staying on in Auckland, we can recommend / take you on good day trips eg Rangitoto Island; Waiheke Island; Rotoroa Island; Coast to Coast walk; North Shore beaches; Volcanic cones; etc. The Auckland Arts Festival will be on during March too with a range of local and international shows and activities.
Come and join us!
ATC
Anyone interested should let Russell russellallen8484@gmail.com know now. No final committment is required until end of September but expressions of interest are very useful for planning purposes.